Featured
Visiting Cognac Distilleries
July 6, 2023

Prior to our global launch of Cognac and Fino Sherry Cask Matured, Antea was on a market tour in France and was fortunate to be able to spend the Monday after the Limoges Spirits Festival, diving into the world of Cognac and she shares her experiences below.

While my primary focus was exploring the impact of Cognac casks in the maturation process of whisky, I couldn't help but fall in love with the gorgeous distilleries and wineries making with this exquisite spirit. In this article, I will share my experiences and insights gained from visiting just some of the renowned Cognac distilleries including Giboin, Curvasieur, and La Chevalierie (Vignoble Pelletant).

Our latest – and first ever – Cognac Cask Matured Kilchoman has been released after a 6 year maturation solely in Cognac casks sourced from Tonnellerie Bossuet. Tonnellerie Bossuet is family ran (father and son), with a legacy that spans over a century. They have established themselves as a leading name in the world of cooperages supplying barrels to distilleries, wineries, and spirits producers around the globe. This cooperage based in Cognac, creates casks from both Tronçais and Limousin Oak. Tronçais creates a softer profile during maturation due to the light tannins in the oak whereas Limousin is more robust as a result of heavier tannins. This proves yet again that the flavours and influence of the oak can vary depending on their provenance and structure.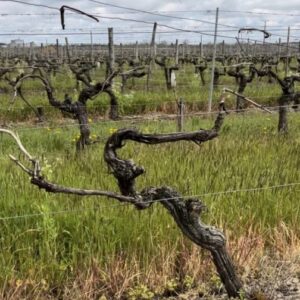 Staying just 10 minutes drive from Giboin Distillery, it made sense to make it my first stop. Giboin Distillery is a small country house, nestled in the heart of Cognac's historic region. Giboin has a rich heritage spanning several generations and I met with Pierre-Louis outside the distillery.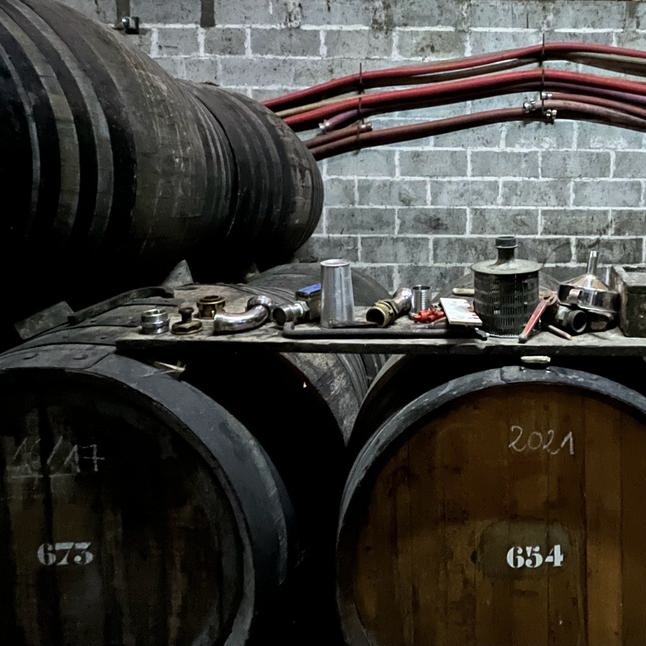 While I was in Cognac, it was during the seasonal shut down of distilleries. All distilleries must adhere to the deadline for final distillation on March 31st , complying with the requirement of Cognac AOC guidelines. Unfortunately, this meant that I couldn't see the process first hand.
After an explanation from Pierre-Louise on Gibion's production from grape to bottle, we stepped into their cellars where I was instantly captivated by the intoxicating aroma of aging Cognac, but also by the beauty of their Charentais pot stills. Known for their meticulous craftsmanship and dedication to tradition, Giboin expertly combine the mastery of oak maturation with their exquisite eaux-de-vie. Cognac maturation begins in fresh oak casks, typically 350 litres in size, and spends a minimum of 18 months. The eaux-de-vie is then decanted into vieux casks, which are slightly larger at 400L.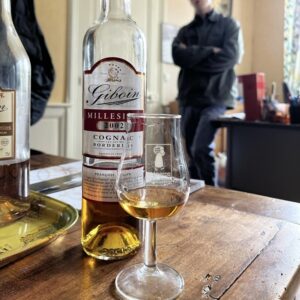 After a walk through Giboin's vineyards, it was time to move to a larger distillery in the heart of Cognac. Another family business that started in 1850 by the Meukow brothers, now run by the Coste family. My interest piqued when we arrived at the vats used for blending after maturation has taken place. These vessels will marry together multiple ages of Cognac. This process is carried out by the Maître de Chai or Master Blender. The Cognac will spend a minimum of 6 months in the oak vats.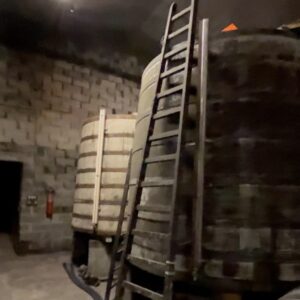 My final stop was on my return journey to Limoges. Stopping off in Saint Amant de Nouere, a small village protected by vines and farms, where silently working, Vignoble Pelletant can be found alongside their La Chevalierie domain Cognac.
A noticeably different setting to my other visits on this trip, I met with Domenique, the owner, who kindly showed me around. Domenique explained that the cellars were over 200 years old and contain predominantly their own casks. The majority of their production – around 80% – leaves the site to be bottled under larger brand names. The cellar walls were covered with black fungus (Baudoinia Compniacensis) – which can also be found in whisky warehouses – but this amount was something that I hadn't before seen. Domenique noted that the thick walls and natural clay flooring allow for a consistent temperature throughout the year. While the stills were getting cleaned, I noticed some similarities between the design of our (Kilchoman) stills and theirs whereas the fermentation tanks in Cognac production are neutral containers with thick, temperature-stabilizing walls which are believed to soften the spirits texture.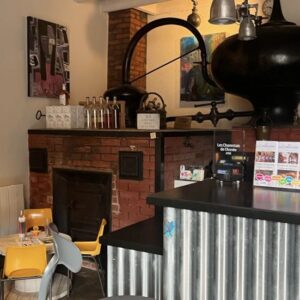 I was fortunate enough to taste a variety of samples throughout these visits and each provided a unique tasting. Typically, larger and more commercially available Cognacs gave a sweeter style whereas the smaller producers provided a more distinctive style with spicier and often fresher aromas.
The Cognac maturation has worked incredibly well on our latest limited release. It has added the rich spiciness and buttery texture that we would expect from a high-end Cognac, while allowing a soft Kilchoman peat smoke to remain present. On the finish, dried fruit, marzipan and liquorice wood allow for a complex lasting impression.
Our very first fully matured Cognac Cask Matured release is available in stores across the world, find the list here!
Sante',
Antea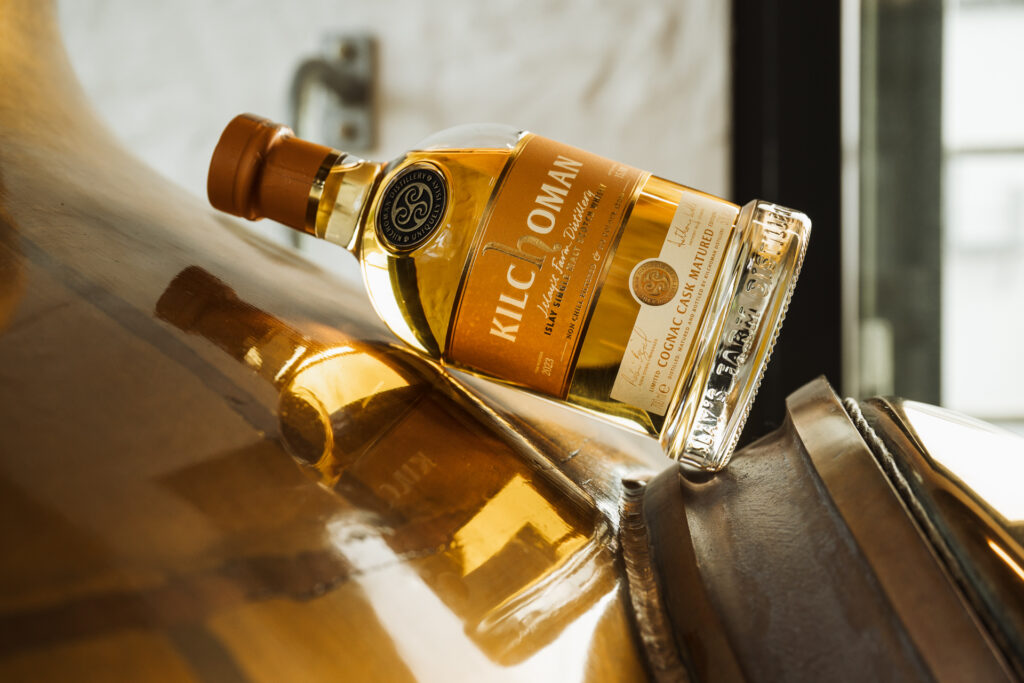 READ NEXT
Featured
100% Islay 13th Edition
The 100% Islay 13th Edition was distilled from barley grown on the farm at Kilchoman in 2012, 2013 and 2014, it was then matured for a minimum of 8 years before 44 bourbon barrels were selected for this year's release of bottles. "The 13th Edition is the first release since…
September 11, 2023
READ FULL POST