Featured
Cognac & Fino Sherry Cask Matured 2023 Limited Editions have been released!
May 9, 2023

The first of our limited-edition cask expressions in 2023 have now launched! The vattings for both Cognac Cask Matured and Fino Sherry Cask Matured took place in March earlier this year with casks being tasted and hand selected by Anthony Wills and Robin Bignal at Kilchoman Distillery on the Isle of Islay. Now bottled and shipped directly from Islay, you should begin to see bottles in your nearest retailer appearing shortly!

The Cognac Cask Matured is a vatting of 32 Cognac casks sourced from Tonellerie Bossuet (France). The 2023 limited edition sees our heavily peated spirit spend its full maturation in Cognac casks for a minimum of six years. During its maturation, the spirit has captured the herbaceous, sweet spice from the Cognac casks which balances with our citrus-fruit led spirit, allowing the maritime Kilchoman peat smoke to subtly shine through.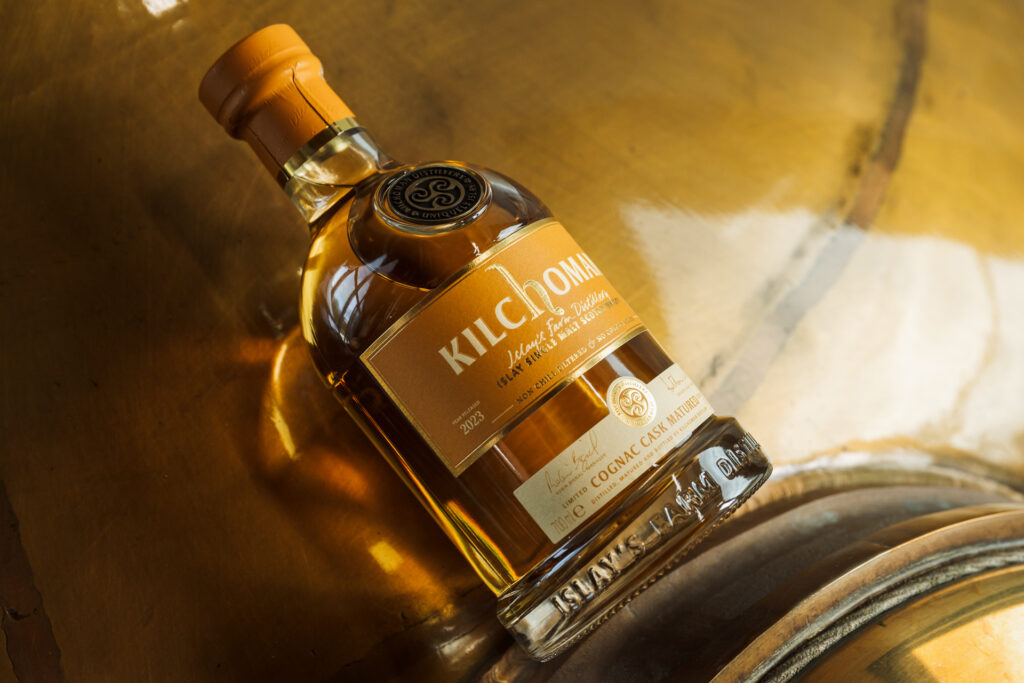 "The limited-edition cask exploration editions allow us to experiment with our spirit here at Kilchoman. The Cognac casks selected for this 2023 release permit our fruit-driven, citrus spirit style to balance with that of the Cognac oak. There is a delicate balance to be found when working with Cognac casks; keeping the age of this release at a minimum of six years old ensures the flavours from the spirit and the cask are easily detected, neither dominates," Anthony Wills, Kilchoman Founder.
Cognac is a variety of brandy which has been produced from a distilled white wine. Cognac must be twice distilled (using copper pot stills) and aged for a minimum of two years in French oak barrels (typically Limousin). To firstly produce the white wine, the grapes are grown in specific designated growing regions and harvested towards the end of the year, typically around October. The grapes are then pressed and fermented, naturally without the addition of sugar, reaching 9%abv. This is then twice distilled in copper pot stills with the heart of the distillation transferred to the above-mentioned oak barrels for maturation.  A minimum maturation period of two years is required. The Cognac casks used at Kilchoman have been purchased from Bossuet Cooperage in France originating from a single Cognac house. These 300 bulk litre casks have worked incredibly well with our spirit imparting flavour profiles such as dried fruits, toffee and warm spices.
The 2023 Fino Sherry Cask Matured limited edition is a vatting of 20 Fino Sherry Butts, previously used by Bodega Jose y Miguel Martin (Spain). Our Kilchoman spirit has matured fully, for a minimum of five years in Fino. During its maturation, the spirit has developed a dry salinity which is balanced with a green fresh fruit influence and elongated delicate peat smoke.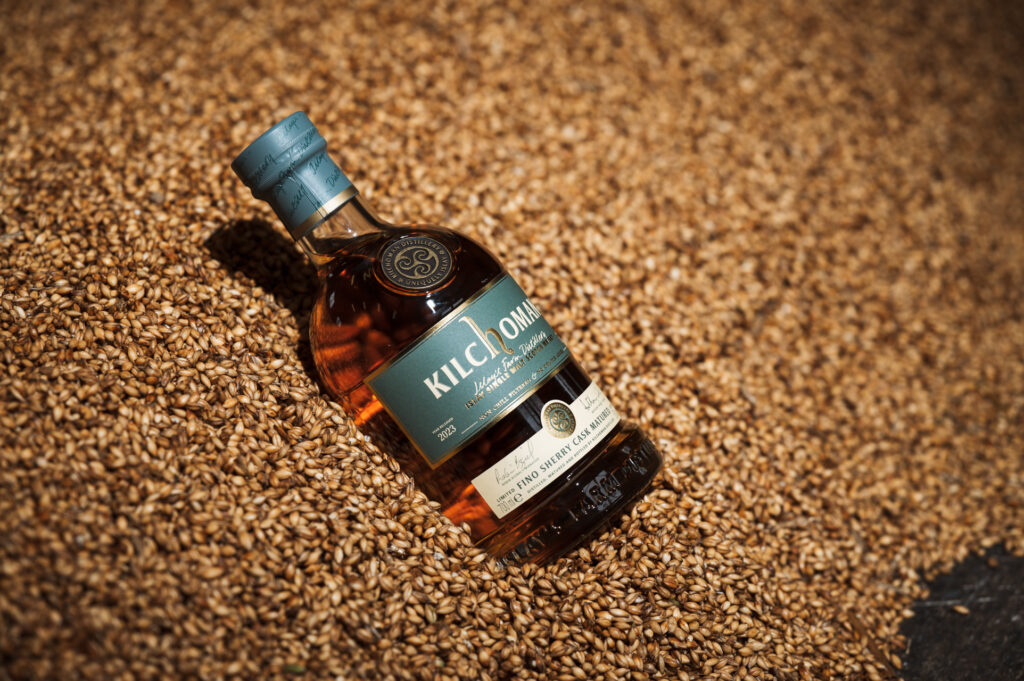 "The Fino Sherry maturation works incredibly well with our classic Kilchoman character. The 2023 release elevates the fragrant green apple, stewed fruits and sweet citrus while allowing for the unmistakeable Kilchoman peat smoke to linger on the palate. Fino is another example of sherry casks working together, not against, our Kilchoman spirit," Anthony Wills, Kilchoman Founder.
Fino sherry is a light, dry type of Sherry, originating from the Jerez region in southern Spain. Fino is produced from the Palomino grape variety. Due to Fino being more delicate than Oloroso or Pedro Ximénez, the grapes used to produce Fino are grown in top-quality soils such as the chalky albariza marls. Once the grapes are ready to harvest, they are picked and fermented into a light wine which is then fortified with distilled wine, reaching approximately 15% abv.  It is then aged under a layer of yeast, known as 'velo de flor' to prevent contact with the air, minimising the risk of oxidation. The casks used during this ageing process are American oak butts which are stored using the traditional solera system in the bodega. The average maturation sits between 4 – 7 years. When using these casks at Kilchoman for maturing our spirit, flavour profiles of yeast, dough and almonds can easily be identified while also providing a rich saline profile with hints of fresh herbs.
Cognac & Fino Cask Matured will be available from your regular Kilchoman stockists around the world from this week.
For more information email info@kilchomandistillery.com
Click here to become a Kilchoman Club Member and be one of the first to hear about all our future releases and other news from the distillery.
READ NEXT
Featured
The Kilchoman 16 Years Old
This is a proud moment for all at the distillery as we release our oldest global bottling to date. A combination of 21 casks have been maturing for over 16 years, predominantly ex-bourbon barrels with a hint of ex-oloroso sherry, creating a perfectly balanced single malt. With a marriage of…
November 6, 2023
READ FULL POST