2020 Club Release – Ninth Edition
November 12, 2020

The 2020 Club Release is here! Available exclusively to Club Members from 2pm (UK time) on Wednesday 18th Nov. If you aren't a member already, click here to register.

Always keen to find something a bit different to our regular releases for the Club, we have found a series of very rare Kilchoman casks. This, the Ninth Edition, is a vatting of four fresh oloroso sherry hogsheads distilled in August 2012.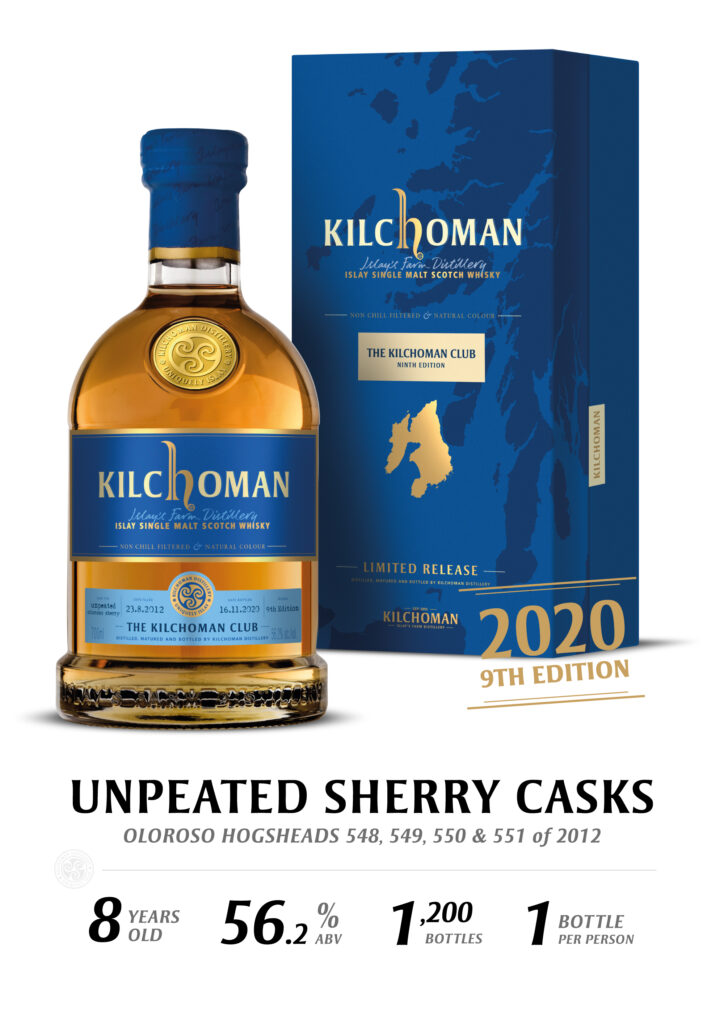 These casks were filled with our 100% Islay spirit, produced from publican barley grown and malted on site, however unlike other 100% Islay expressions these casks contained whisky distilled from unpeated Kilchoman malt.  The reduced peat smoke flavours allow for light, fruity character to shine through. Interestingly, whilst the malted barley was unpeated, remnants of previous peated spirit runs create faint hints of smoke on the nose which complement the balance of rich fruit and citrus on the palate. Bottled at cask strength, 56.32% abv, there will be approximately 1,200 bottles available.
"We only filled a handful of casks with unpeated 100% Islay spirit over the past 15 years and it was always going to be fascinating how they developed differently from the usually peated malt. Although faint notes of peated spirit from the previous sprit runs can be found in the whisky, it is overridden on the palate with strong spice, bold fruits and coastal flavours"  Anthony Wills, Kilchoman Founder and Master Distiller.
Approximately 1,200 bottles will be available at 2pm on Wednesday 18th November (UK time). Bottles will be priced at £99.60 per bottle (Incl. VAT, 70cl, 56.2% abv) limited to one bottle per person. For more information please email tours@kilchomandistillery.com or call (+44) 01496 850011
READ NEXT
The Kilchoman 16 Years Old
This is a proud moment for all at the distillery as we release our oldest global bottling to date. A combination of 21 casks have been maturing for over 16 years, predominantly ex-bourbon barrels with a hint of ex-oloroso sherry, creating a perfectly balanced single malt. With a marriage of…
November 6, 2023
READ FULL POST