Whisky & Food Pairing Live Tasting
August 31, 2020

Join us for another 'Whisky & Food Pairing Live Tasting' on Thursday 17th September at 7pm.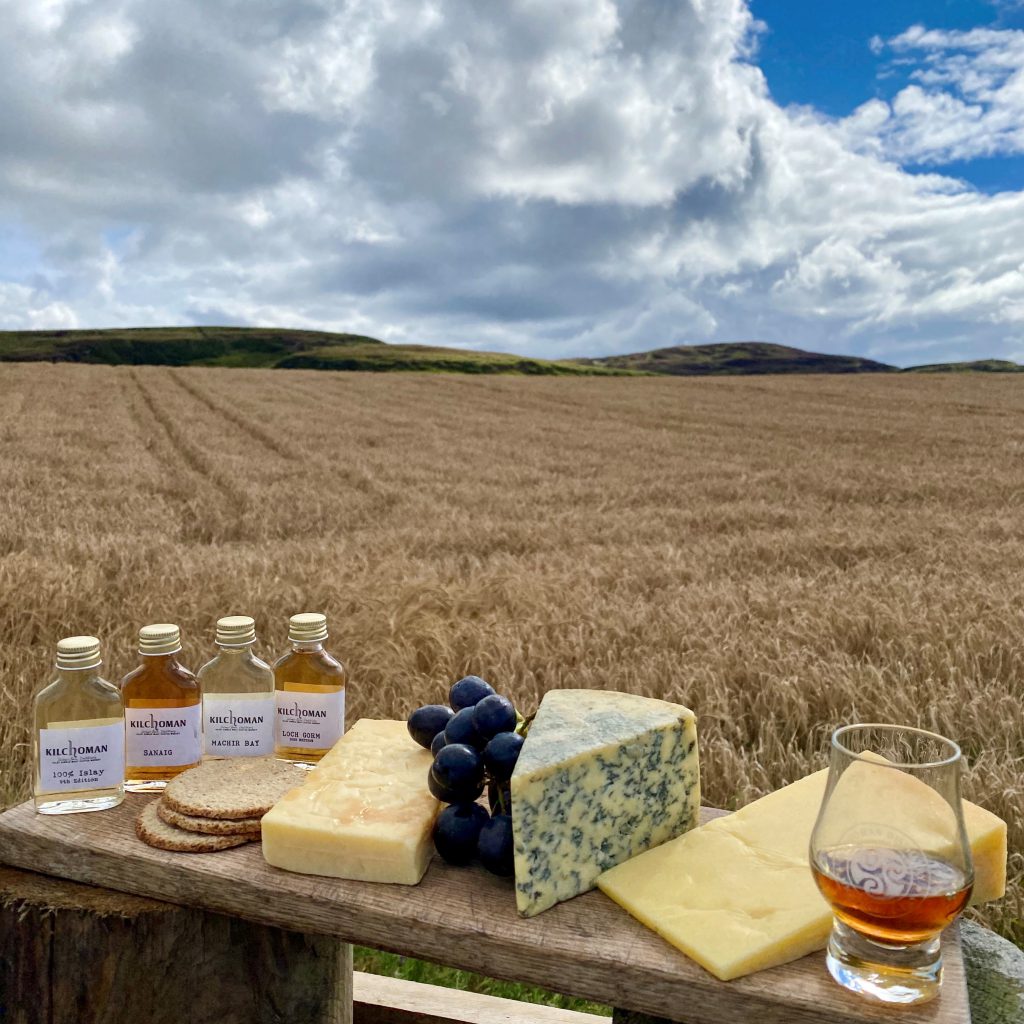 Taste along with your Kilchoman Tasting Glass as we take you through our Core Range of whiskies, explaining how we make each whisky and what unique character and flavours can be found in each dram.
You're welcome to join the live tasting with just the drams, however, you now have the chance to try something different. Over the next few months we will be pairing Kilchoman with a variety of fantastic foods, and where better to look than on our doorstep in Scotland! From highland venison to island cheese and west coast seafood, we'll be teaming up with some great Scottish producers to complement our whiskies.
For the tasting on the 17th September, we will be pairing a selection of cheeses from Isle of Mull Cheese, a family run business on Sgiob-ruadh Farm. Similarly to whisky making being a long standing tradition within Scotland, so too is cheese making and this tradition is still very much alive on the Isle of Mull. Being a small family run business, Isle of Mull Cheese have complete control over their production enabling them to ensure the highest quality cheese is produced for customers. All of the cheese is made with unpasteurised milk from their hardy, healthy, island cows fed on grass and whisky grains from the Tobermory Distillery.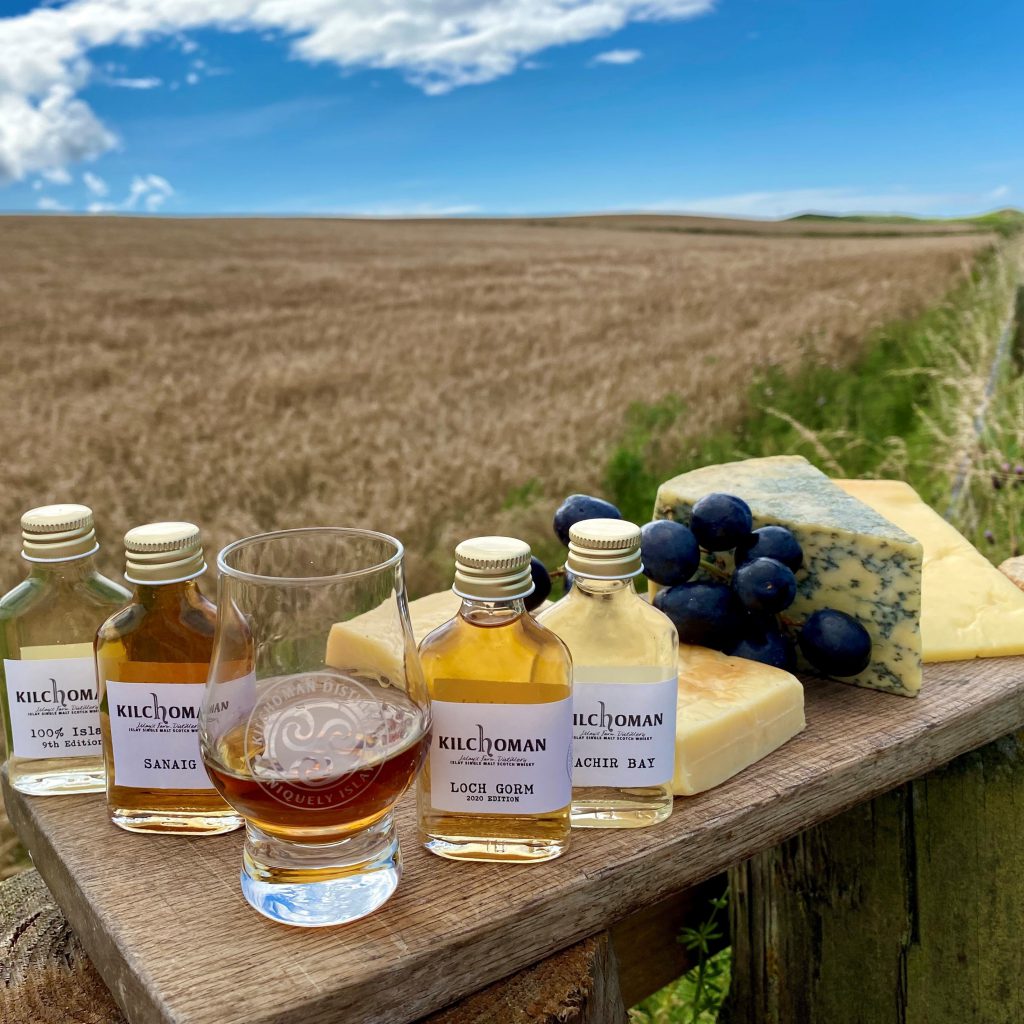 To find out more about Isle of Mull Cheese and to order your Cheese Tasting Pack click HERE. Isle of Mull Cheese are kindly offering a 10% discount for Kilchoman whisky fans to use on all products available on their online shop. Use the code KILCHOMAN to claim your discount. *(Orders should be placed by 12th September).
The tasting will be broadcast live on Facebook and Youtube at 7pm UK time on Thursday 17th September. We hope you can pour yourself a dram and join us and please send in your questions and comments during the tasting. Recordings will be available afterwards for anyone who would like to catch up at a later time.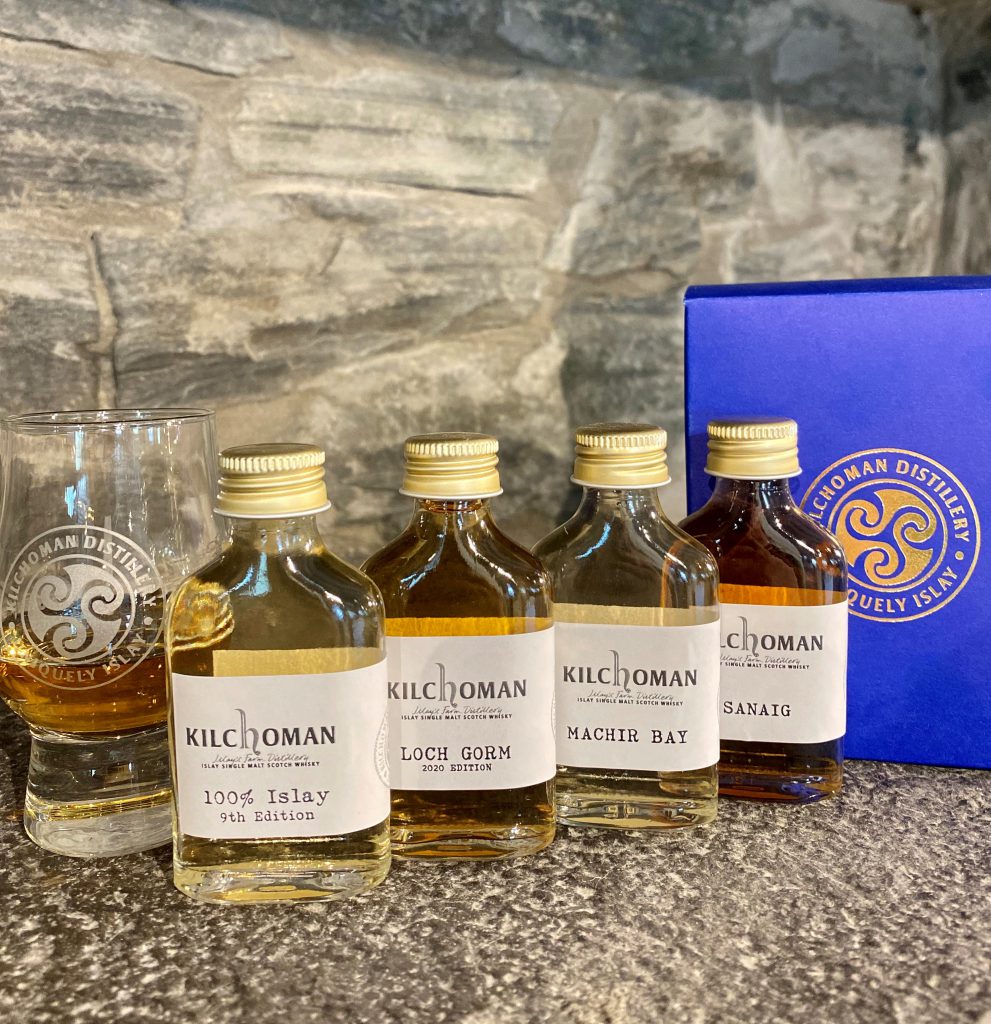 Kilchoman Tasting Pack (on sale HERE) includes –
Machir Bay – 46% (20ml) – Our signature peated single malt is a vatting of Kilchoman matured in a high proportion of bourbon casks with a small sherry cask influence.
Sanaig – 46% (20ml) – Although also matured in both sherry and bourbon casks, Sanaig has a high proportion of oloroso influence, giving a vastly different character to the whisky.
Loch Gorm 2020 – 46% (20ml) – The 2020 edition of Loch Gorm is a vatting of 21 oloroso sherry butts from 2007, 2008, 2009 and 2011.
100% Islay 9th Edition – 50% (20ml) – Distilled from our 2007 and 2009 barley crops, the 9th edition is a vatting of 43 ex-bourbon barrels matured for over 9 years in our on-site dunnage warehouses.
Kilchoman Tasting Glass
READ NEXT
The Kilchoman 16 Years Old
This is a proud moment for all at the distillery as we release our oldest global bottling to date. A combination of 21 casks have been maturing for over 16 years, predominantly ex-bourbon barrels with a hint of ex-oloroso sherry, creating a perfectly balanced single malt. With a marriage of…
November 6, 2023
READ FULL POST