Featured
What are the whisky regions of Scotland?
April 25, 2023

When looking to try a scotch whisky, we're lucky to be exposed to an array of flavours, aromas, and styles from all over the country but what are the whisky regions of Scotland and how do they impact the style of spirit being produced?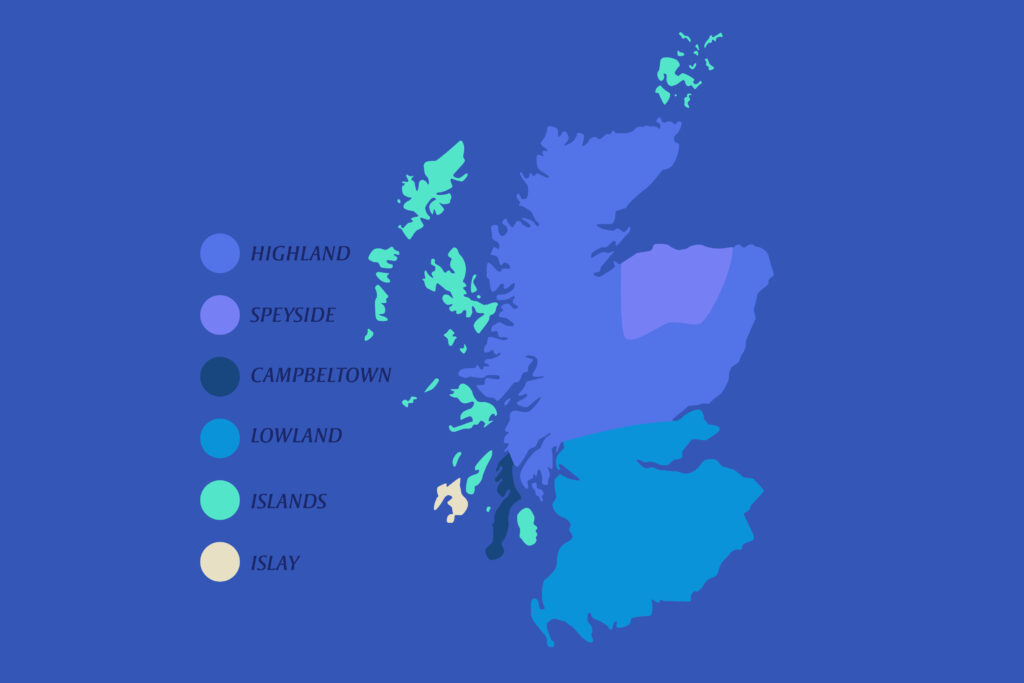 Whisky – be it any style – is produced in many areas across Scotland from East to West, to North to South. The history, quality and volume of the spirit produced has meant that Scotland is one of the most desired countries in the world of whisky. Within Scotland, we're able to break up the areas producing scotch whisky into five regions (with one sub-region): Islay, Highlands, Speyside, Lowlands and Campbeltown (and the Islands). Each region traditionally produces distinct characteristics making them individual from others in the surrounding land. Historically, the region not only defined where the scotch was being produced but also its style. An example of generalised flavour profiles found within each region of Scotland can be found below:
Islay – driven by heavily-peated, smoky styles – often intense, maritime, dry smoke is found
Highlands – less peaty with a sweeter, drier influence
Speyside – very little or no peat influence, more fruit and sweeter style
Lowlands – often lighter with no peat influence
Campbeltown – rich in character, can be relatively peated
Islands – not an official region but can be considered a sub-region of the Highlands, producing maritime, less peated styles
Looking at the above list, it asks the question; is this still the best way to determine the flavour profiles found when specifically looking at Single Malt Whisky? It could be argued that the region that the distillery is based within, primarily determines the location more than the profile of whisky being produced.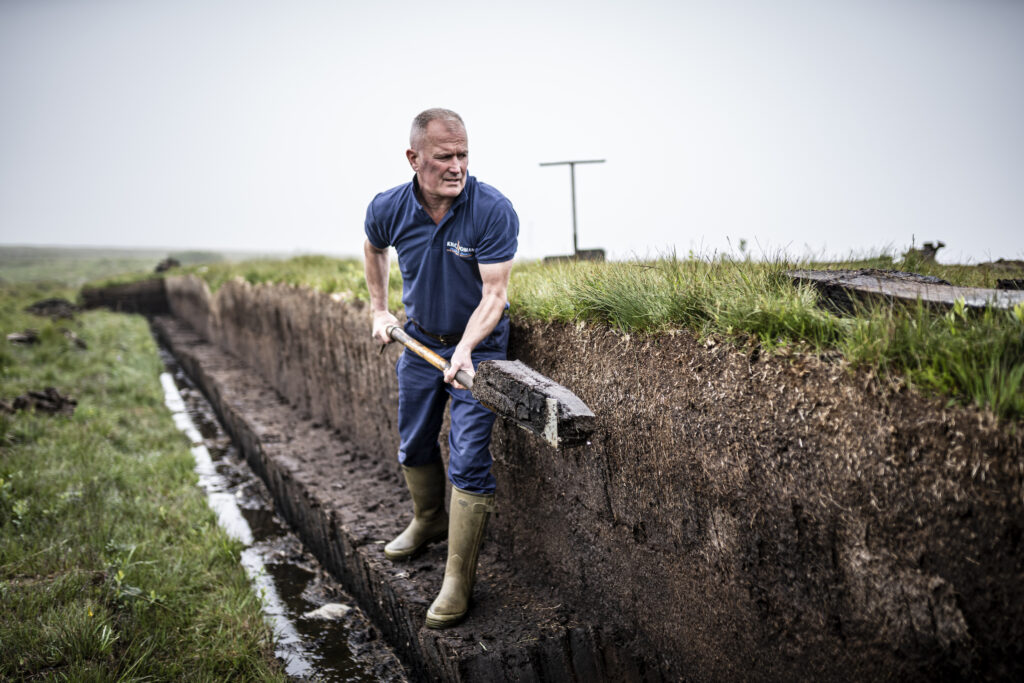 If we take the region of Islay as an example, as stated, heavily-peated whiskies are what the island is known traditionally for producing, but from the 9 currently operating Islay distilleries on the island, we know that we also have un-peated and lightly-peated malts being released with further experiments taking place. This is a positive for anyone looking to enjoy Islay whisky but also looking to develop their palate.
Let's look at the Isle of Islay a little closer; the island of Islay can be found on the southernmost of Scotland's Inner Hebrides and is known to many as the 'Queen of the Hebrides' with an approximate population of +3200 people currently based on the island. Due to the long-standing history of distilling on the island, the quality of the spirits and their distinctive flavour characteristics, it is quite rightly noted as its own region.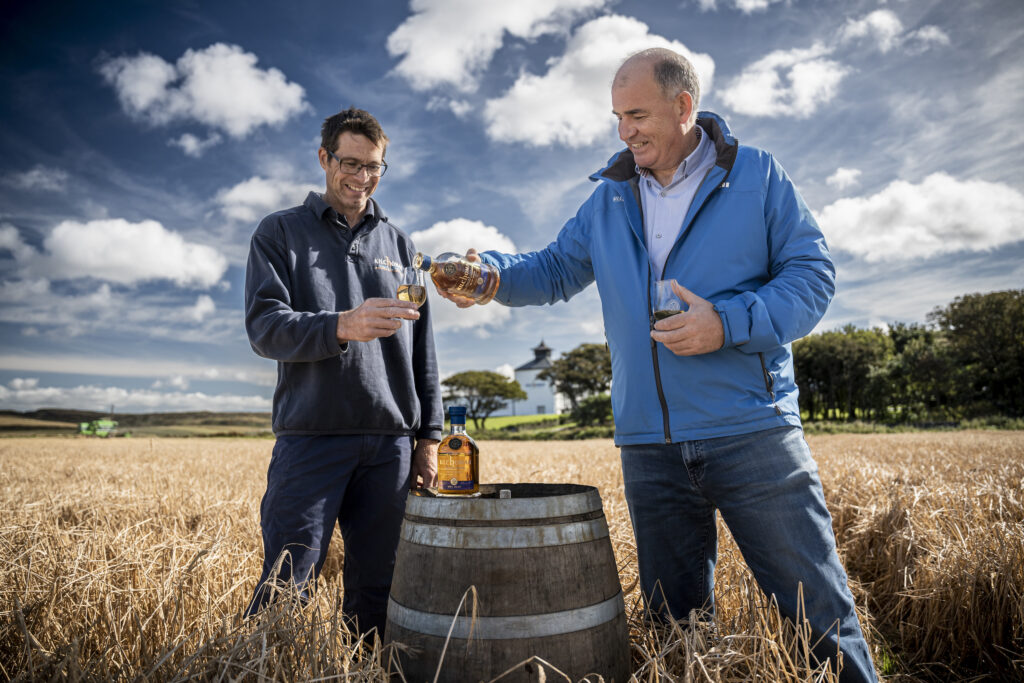 When it comes to the climate and landscape of Islay, it's as unique as each of the Scottish islands. The island is largely comprised of peat bogs which is one of the main reasons distilleries produce a heavily-peated style of single malt on the island. The source of the peat has a significant influence on the barley used to produce single malt whisky – you can read more about that here. Distilling on Islay dates back hundreds of years. Some of the most well-known, still in operation, older Islay distilleries would be Bowmore, Lagavulin and Laphroaig. From these distilleries alone, we're exposed to a distinct style of heavily-peated single malt. As time has gone by, several of the Islay distilleries have begun to experiment with their profiles of single malt. We're now exposed to a multitude of flavours, each defining each distillery in its own right. You're able to find single malt created from un-peated malt (0-3ppm), heavily peated (30-55ppm) and super-heavily peated (80-309ppm) all from the one island!
At Kilchoman we know that using the Islay name symbolises more than just having the distillery based on Islay. The reason Kilchoman was established was to bring back the traditional method of producing Single Malt; from barley to bottle, on the very island the distillery is built on. Yes, we produce a heavily-peated spirit – our 50ppm house style is a nod to that classic peated Islay style – but we also focus a proportion on lightly peated, 100% Islay-grown, sitting at 20ppm – you can check out our latest 100% Islay 12th Edition, here. Anthony and the team at the distillery want to give you a taste of that definitive Islay peat smoke but with a newfound elegance and balance, bringing citrus-sweet spirit influence alongside a malt-driven profile. Kilchoman is the only Single Farm Single Malt scotch whisky distillery on the island who focus on every element of production, from growing the barley on our own farm and seeing this through to bottling on-site. It's a balance to ensure we maintain the rich history that Islay has rightly acquired over the years while capturing this in our own, unique way.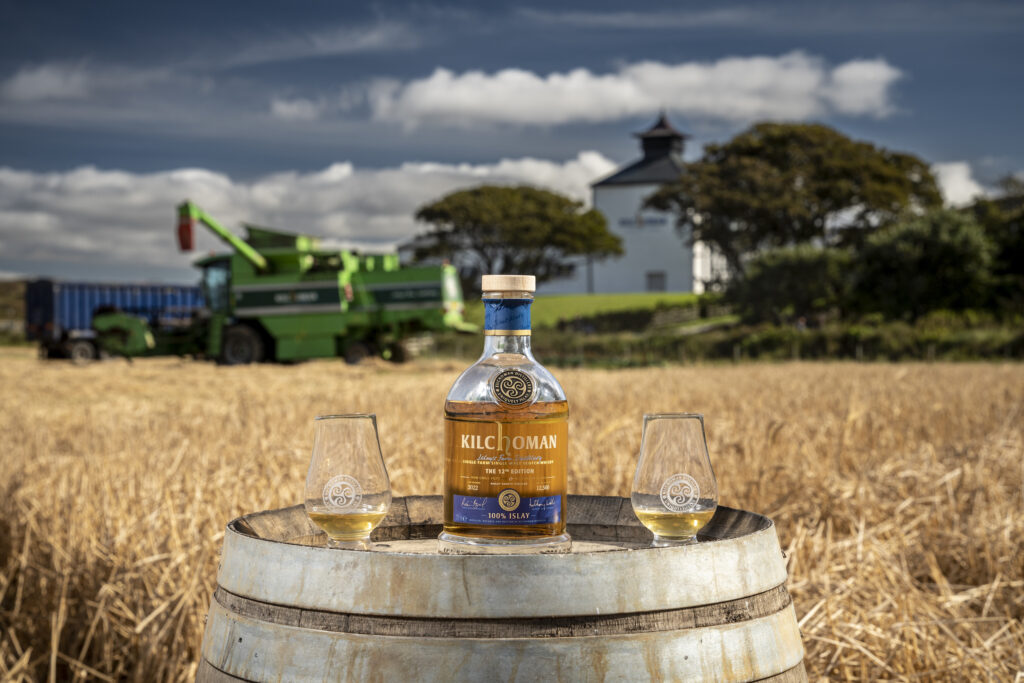 READ NEXT
Featured
100% Islay 13th Edition
The 100% Islay 13th Edition was distilled from barley grown on the farm at Kilchoman in 2012, 2013 and 2014, it was then matured for a minimum of 8 years before 44 bourbon barrels were selected for this year's release of bottles. "The 13th Edition is the first release since…
September 11, 2023
READ FULL POST