BLOG POST
Sherry to Sauternes: An Overview of Kilchoman casks
August 1, 2018

The first cask of Kilchoman, a refill bourbon barrel sourced from Speyside cooperage, was filled on December 14th 2005, a proud moment for everyone involved in the creation of Kilchoman.  Thirteen years on from filling our first cask and we have substantially increased both the quantity and variety of casks in our warehouses.  Whilst bourbon and sherry casks remain our two most frequently filled cask types, accounting for roughly 70% and 20% of our fillings respectively, we now have over 20 different varieties of cask maturing Kilchoman spirit here on Islay.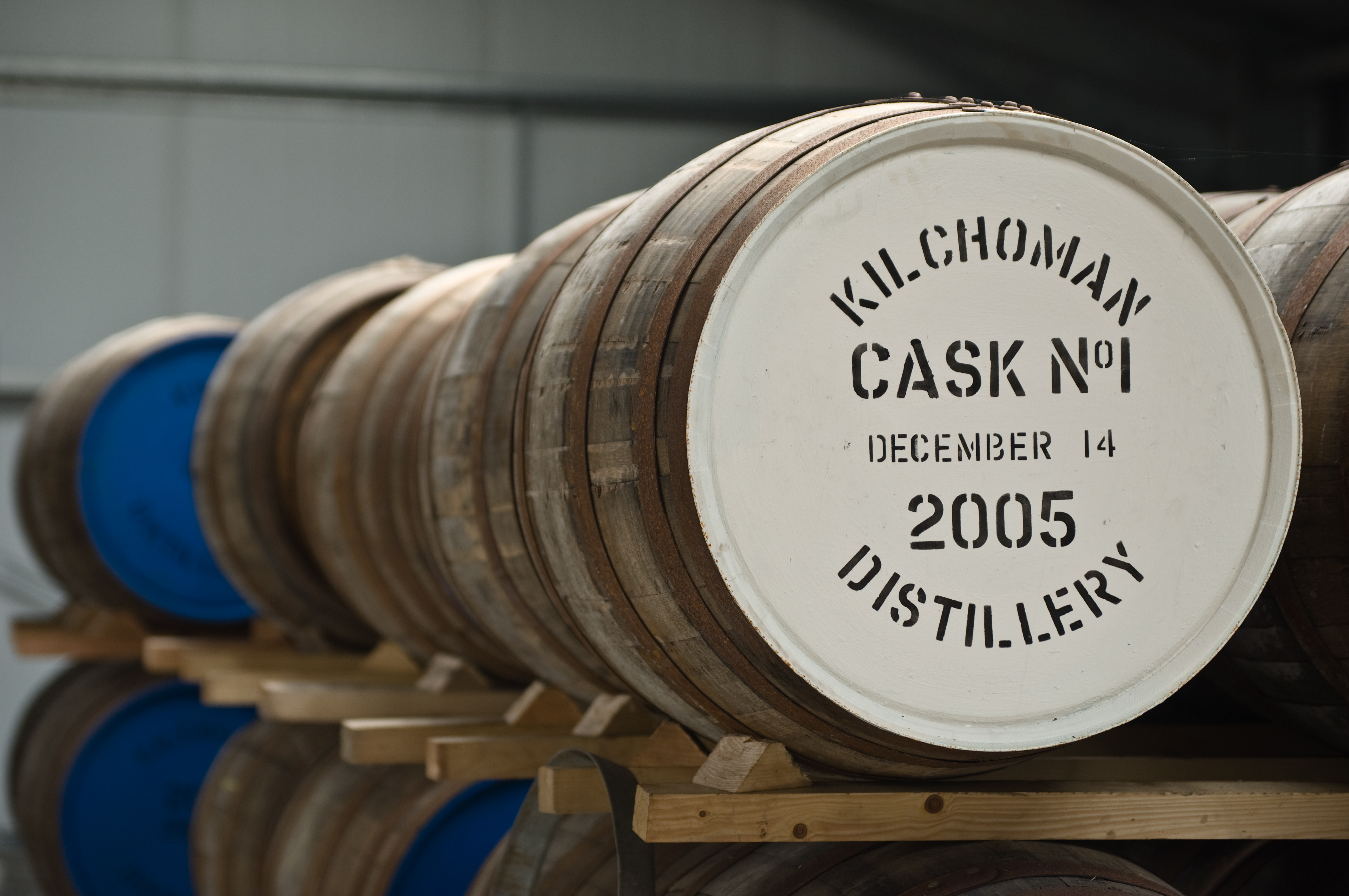 Bourbon Barrels
Like many distilleries, much of our new make (unmatured whisky) is filled into ex-bourbon barrels from the US.  However, unlike virtually all distilleries we source our barrels from a single supplier and ship them whole directly to the distillery.
All our fresh bourbon barrels start their lives at Buffalo Trace Distillery in Kentucky, USA where they were first constructed before being used to mature their range of Kentucky Bourbon.  Ade from virgin American oak, the barrels have a particularly deep char which allows for increased wood extract, crucial to both the character for Buffalo Trace and Kilchoman.  Once the good folk in Kentucky have used them (just once by law) they are rolled onto a container and shipped to Islay, arriving about 8 weeks later with many barrels still containing a swill or two of bourbon.  This wet cask shipping ensures the bourbon remains sealed within the wood and gives the Kilchoman maturation a kick-start, one of the key reasons our malts are so full of character at a relatively young age.
In contrast to our system for shipping casks whole and wet, most Scotch whisky distillers prefer to source their bourbon barrels from a broker.  These companies buy barrels from multiple US producers and deal in the shipping and reselling of these barrels in Scotland.  This usually entails breaking down the barrels when they are shipped to minimise costs which often means the barrels dry out, resulting in much of the character held within the oak being lost.
The light caramel, vanilla and fresh fruit character imparted by the Buffalo Trace barrels pairs beautifully with the citrus, tropical fruit and maritime peat smoke of our spirit and continues to be the principal part of our flagship bottling, Machir Bay.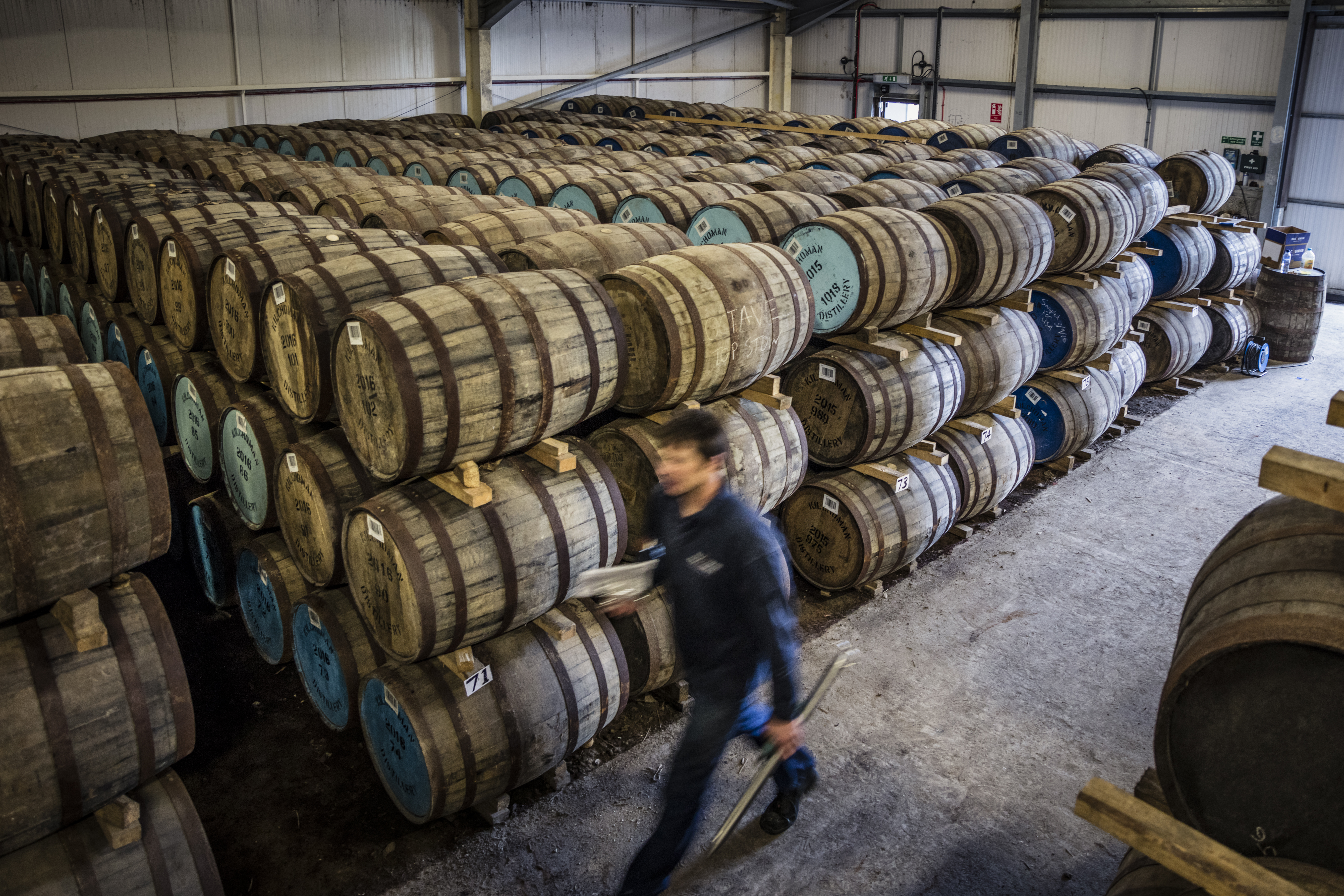 Sherry Casks
Our principal sherry casks of choice are oloroso sherry butts, sourced from Bodegas José y Miguel Martin in Jerez, Spain, these 500ltr monster casks form the second largest segment of our maturing stock.  In contrast to the light influence of bourbon barrels, oloroso sherry butts add layers of bold spicy, rich character to the whisky.  As with our bourbon barrels, the sherry casks are shipped directly to Islay and filled whilst the oak is still soaked in sherry.   The 2018 Loch Gorm, our annually released limited edition is a vatting of nineteen oloroso sherry butts filled in 2007, 2008 and 2011.  It's all sherry maturation gives it a distinct combination of bbq smoke and sweetness balanced with light fruit and rich peat smoke, which sets it apart in our range.
As well as oloroso butts and hogsheads (smaller 250ltr oloroso sherry casks) we also use fino and Pedro Ximénez sherry casks, the fino's adding layers of green apple and white grapes, the Pedro Ximénez's imparting waves of dried fruit, toffee and PX sweetness.
Multi-Cask Vattings
As well as single cask maturation we will often combine multiple cask types, as with the Machir Bay and Sanaig releases, to create a balance of sherry and bourbon influence.  Much like a chef (or magician), Anthony Wills, our founder, will combine the lighter bourbon matured spirit with some richer sherry maturation to create a particular style of Kilchoman, balancing the attributes of each cask type.
Experimental Casks
In addition to our core stock of bourbon and sherry casks, we fill a range of casks including numerous varieties of port, wine, cognac, madeira and rum, each earmarked for future single cask or limited edition bottlings.  In contrast to most distillers who use these cask types for short periods of 'finishing' at the end of maturation, we prefer a full term maturation; filling the casks with new make spirit to allow the full influence of the cask to impact on the whisky.   This can be a risky strategy as these cask types are renowned for imparting bold and powerful flavours, however our Port Cask Matured, released in Spring this year, proves the benefits of full term maturation, creating a unique bottling which combines and balances all of our characteristic peat smoke and citrus with raspberry, cherry and creamy vanilla influence of the Ruby port casks.
Anthony Wills, our founder, on the overview of Kilchoman casks, 'I was keen to experiment with other cask types for full maturation and we have successfully filled and released expressions matured in Madeira, Port, Sauternes and Red Wine casks.   We have recently filled Cognac, rum and calvados casks and I continue to look for other cask types to fill. We use the casks as fresh and refill, then sell them on'.
We continue to lay down stock for future age statement releases as well as experiment with new cask types, follow us on our social media channels or join the Kilchoman Club to keep up with all the goings on.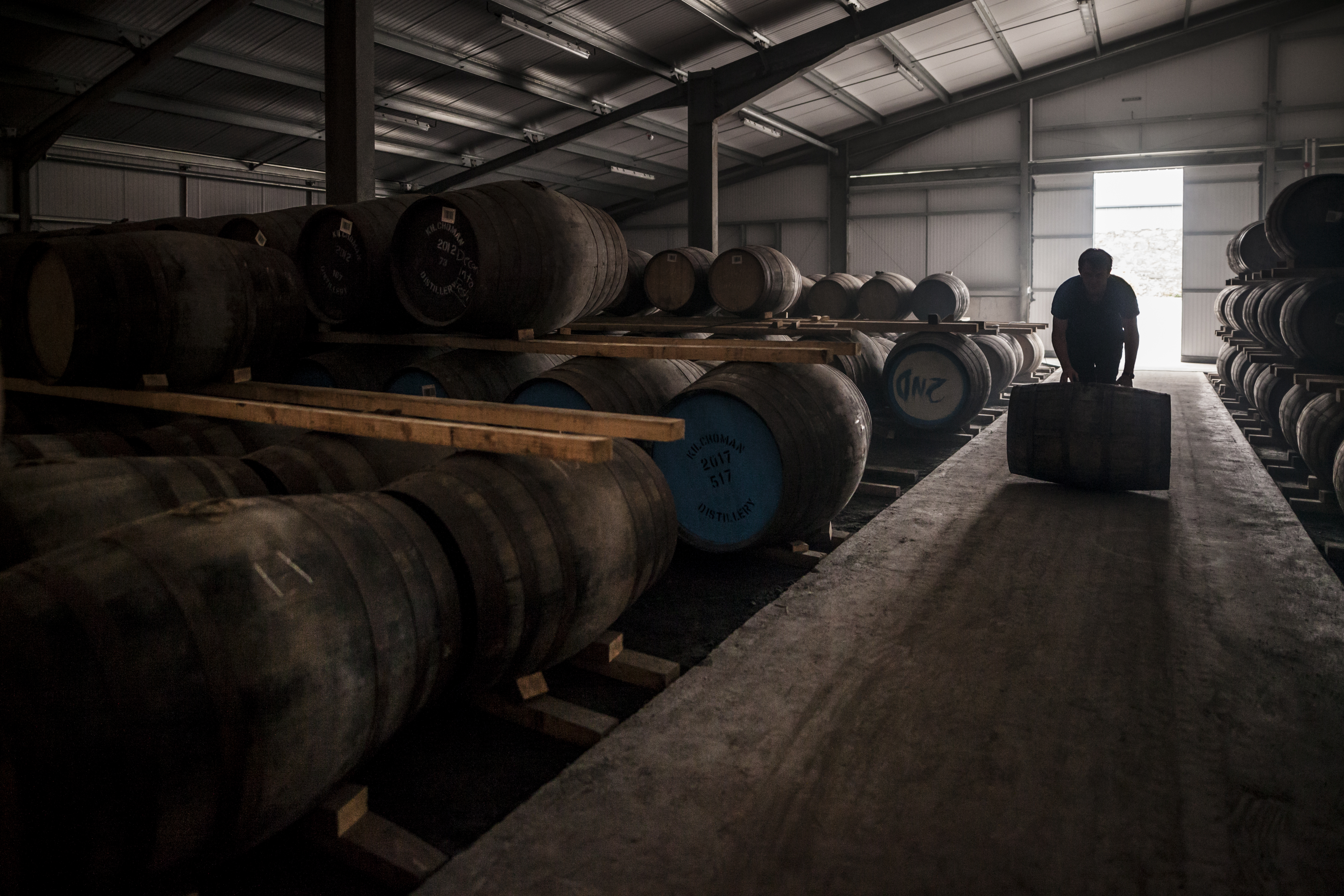 READ NEXT
BLOG POST
100% Islay 13th Edition
The 100% Islay 13th Edition was distilled from barley grown on the farm at Kilchoman in 2012, 2013 and 2014, it was then matured for a minimum of 8 years before 44 bourbon barrels were selected for this year's release of bottles. "The 13th Edition is the first release since…
September 11, 2023
READ FULL POST