NEW RELEASES
Sauternes Cask Finish
September 27, 2018

Sauternes Cask Finish, a limited edition release of just 30 casks, is on its way around the world, hitting shelves any time from Monday 1st October.

The Sauternes Cask Finish follows a range of wine cask releases we've bottled over the previous five years. This latest offering differs in that it was initially matured in ex-bourbon barrels before being transferred into fresh Sauternes hogsheads for five months prior to bottling. This finishing period allows the caramel and vanilla influence of bourbon barrels to be accentuated by the buttery sweetness of the desert wine casks. Meanwhile the classic peat smoke and citrus character of the Kilchoman spirit brings a distinct depth and punch to the whisky, emphasised at the increased strength of 50%.

We have previously favoured full-term maturation for our wine cask releases, bottling fully matured Port, Madeira, Red Wine and Sauternes editions every other year since 2013. The Sauternes Cask Finish approach has arguably provided a more balanced character, combining both the maritime peat smoke and tropical fruit typical of Kilchoman with the softer buttery floral notes characteristic of the Sauternes casks.

As with all recent limited editions, a neck tag details the number of bottles (10,000), casks, ages and cask types used in the vatting; in this case, the Sauternes Cask Finish is a combination of thirty 2012 bourbon barrels married in Sauternes wine casks for five months before bottling.
Anthony Wills Kilchoman Founder and MD, "The full-term wine cask maturations that we've released in the past have been hugely successful, but we wanted to show a more measured approach this time around. The five month Sauternes finish has allowed a more subtle sweetness and buttery character to be imparted into the spirit while maintaining the fresh fruit, citrus and vanilla notes so typical in Kilchoman releases."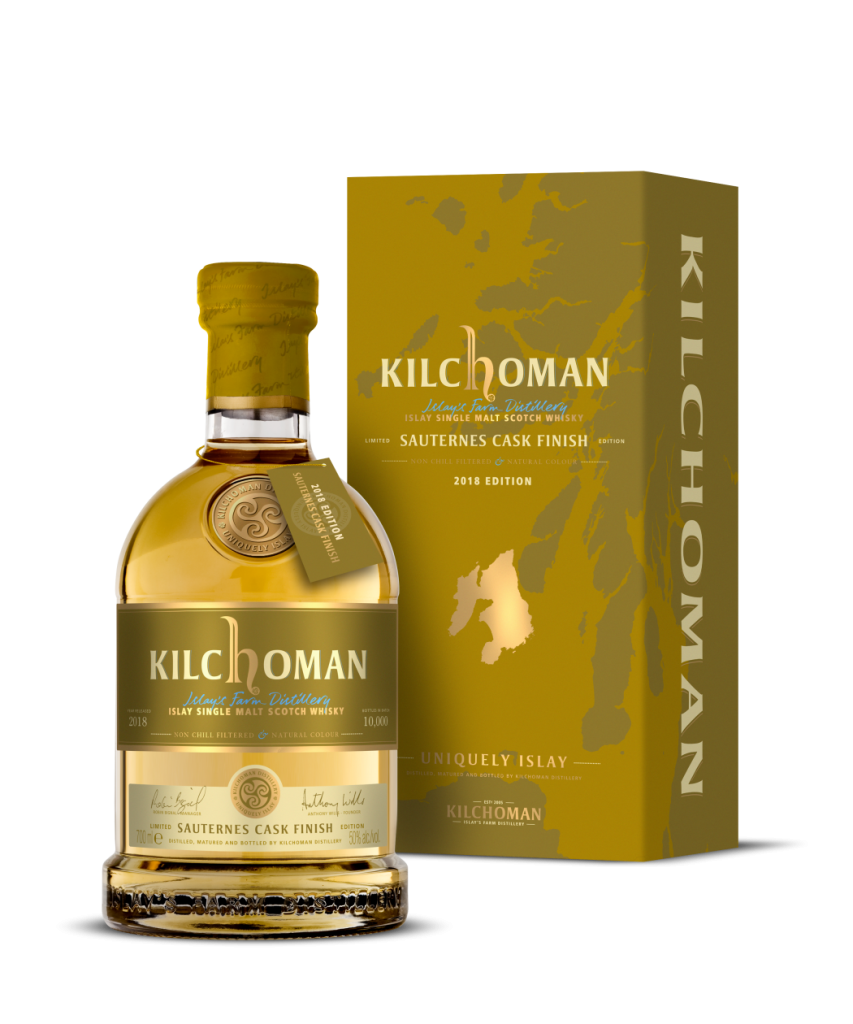 The Sauternes Cask Finish is being shipped to our distributors around the world as we speak! We will also be releasing a small number of bottles on our website from Monday the 1st of October at 2pm GMT – £78.00. On Monday, click on 'Menu' then 'Whisky Shop' to get your bottle. As with all our limited editions, this is limited to one bottle per person, sorry!
READ NEXT
DISTILLERY NEWS
100% Islay 13th Edition
The 100% Islay 13th Edition was distilled from barley grown on the farm at Kilchoman in 2012, 2013 and 2014, it was then matured for a minimum of 8 years before 44 bourbon barrels were selected for this year's release of bottles. "The 13th Edition is the first release since…
September 11, 2023
READ FULL POST