Featured
New Bourbon Cask Supplier – Breckenridge Distillery, Colorado.
June 28, 2023

Since our first production run in 2005, Kilchoman spirit has been aged in a variety of cask types but none more than Bourbon barrels. Bourbon maturation and Kilchoman spirit go hand in hand, and it was noticeable early on that the styles when combined, work incredibly well. When Anthony (Wills) decided on the character of spirit Kilchoman was set to produce, though it would pay homage to the classic, Islay heavily-peated profile, the way in which Kilchoman distillery was designed, was to create a newfound flavour characteristic that was balanced – showcasing the citrus and fruit driven spirit style, alongside a rich Islay peat smoke – Bourbon barrel maturation allows for just that.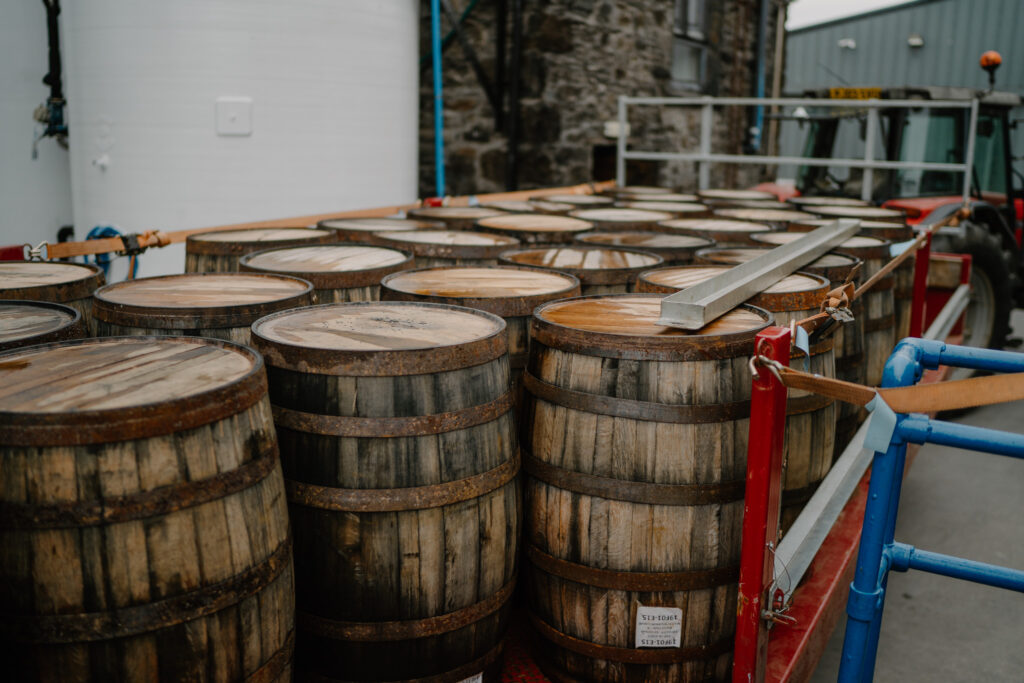 Bourbon barrels are the most widely used styles of casks within the Single Malt industry and are sourced from America.  American whiskies such as Bourbon typically only use casks once.  After their single use, they are shipped to Scotland (typically Speyside), broken down, rebuilt, and sold to distilleries for maturation use. Since 2005 to the beginning of 2023, we have sourced our Bourbon barrels solely from Buffalo Trace, Kentucky. Barrel supply has proven to be a challenge, especially for smaller producers and due to certain circumstances, a consistent supply issue occurred earlier this year resulting in having to look elsewhere for a new supplier of Bourbon barrels.
After researching into numerous Bourbon producers, Anthony decided that a good fit and long-term solution for Kilchoman would be Breckenridge Distillery. Breckenridge Distillery was founded in 2008 and is deemed the 'World's Highest Distillery'. Interestingly, Breckenridge is located in Colorado, not Kentucky. Breckenridge are most well known for their blended bourbon whisky which is a high-rye mash American-style whiskey. Since opening in 2008, Breckenridge have been awarded many accolades and are considered to be one of the top bourbons in the United States. To date, we (Kilchoman) are the only users of Breckenridge casks for maturing Single Malt on the Island of Islay. This allows another point of difference within our maturation to the other distilleries across the island and it will be one that will add a new dimension to our maturation style moving forward.
"Breckenridge are a small distillery, have won many awards for their whiskies and have a similar philosophy as Kilchoman. It was the perfect fit," Anthony Wills, Kilchoman Founder and Managing Director.
In March 2023, we received our first batch of Breckenridge bourbon barrels. These barrels are shipped whole, directly from Colorado. This is to ensure no opportunities for flavour loss once we begin using them onsite at the distillery on Islay. This decision, although not cost effective, is purely one driven by a mindset focused on how to get the maximum potential out of our spirit. We intend on working with these casks in the same way as Buffalo Trace in the past, and once filled, these casks will spend their entire life on Islay, at the distillery in our onsite warehouses. A key element which creates an operational difference for us at the distillery is that the barrels have head bungs, rather than the typical side bung. A bung is a small plug or a stopper which sits in the bunghole, the hole which allows for filling and emptying the contents of the cask. The reason that the bung is found on the head of Breckenridge casks is due to the distillery ageing their barrels vertically and this means that we have to top-fill. What difference this will make during maturation will only be told in time however we are confident with the quality of the casks that flavour won't be affected negatively. Over time, we may experience leaks during storage due to the bung being under more pressure when lying on its side, but this is something that Robin and his team will monitor closely.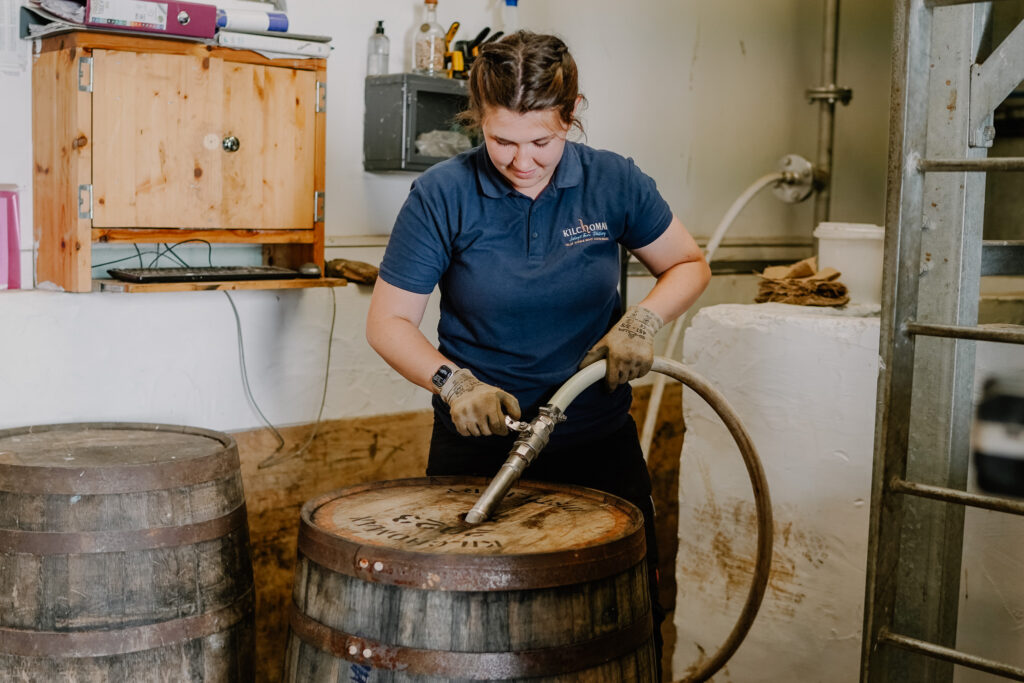 We expect that Breckenridge barrels will allow a new flavour profile to be created at Kilchoman, whilst still allowing for the Kilchoman spirit to remain at the forefront. Breckenridge's core bourbon whiskey is created with 56% corn, 38% rye, and 6% malted barley and aged for a minimum of 3 years in charred American oak barrels. Profiles of honey, butterscotch, candied orange, and brown sugar are to be found. These flavour profiles match well with Kilchoman spirit and will remain a positive addition to our core range Single Malt's, Machir Bay and Sanaig, and our limited editions released throughout the year. In comparison, Buffalo Trace use between 10-51% rye (depending on the mash bill) for their releases. There is a higher chance that our spirit will obtain an additional level of spice and nuttiness due to the initial use at Breckenridge.
"I'm expecting similar flavour profiles as Buffalo Trace but maybe with a bit more intensity.   We'll have to wait a few years before we get a true picture but I have every confidence they will produce a whisky with all the characteristics we are looking for.''
Our intended production for 2023 at Kilchoman will see us produce our largest volume of spirit to date with 620,000 LOA produced. Of that figure, an estimated 60-65% will be filled into Bourbon barrels with Sherry casks 40-45% and alternative maturation styles 5-10%. Considering our focus on Bourbon, it was important to secure a long-term, consistent supply of casks, and this partnership is one that we're looking forward to working on together.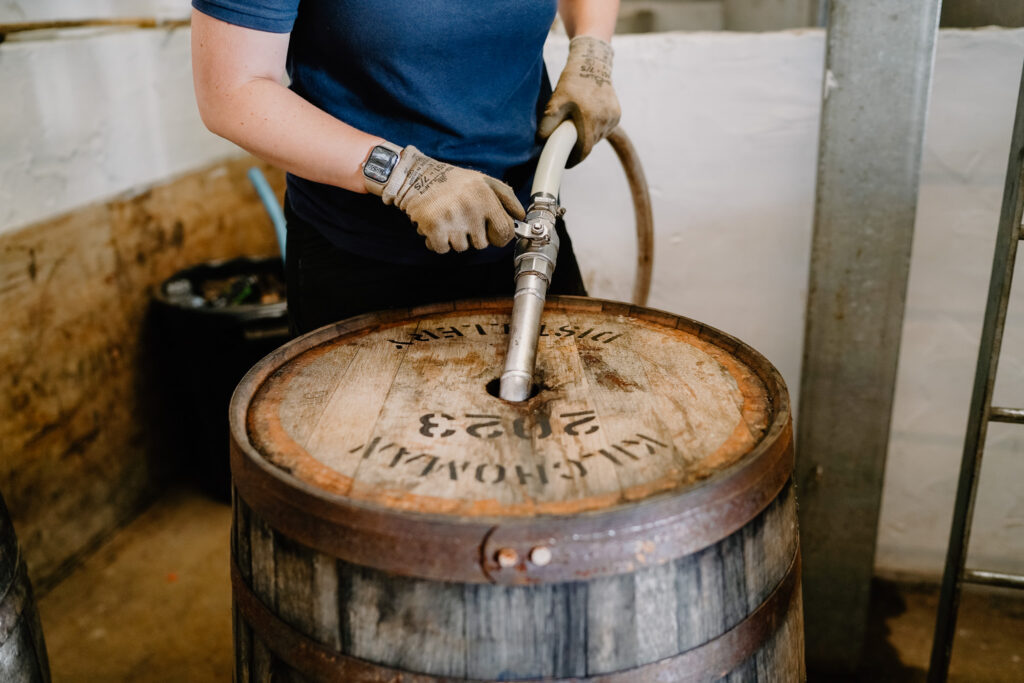 READ NEXT
Featured
100% Islay 13th Edition
The 100% Islay 13th Edition was distilled from barley grown on the farm at Kilchoman in 2012, 2013 and 2014, it was then matured for a minimum of 8 years before 44 bourbon barrels were selected for this year's release of bottles. "The 13th Edition is the first release since…
September 11, 2023
READ FULL POST