'My Perfect Kilchoman Pairings' by Whisky Chef Martine Nouet
March 4, 2019

I am always filled with emotion when, travelling abroad for whisky events, I talk with whisky aficionados and tell them I live on Islay. Their eyes light up with envy, it's like I am telling them I come from Heaven!! The name acts like a magnet, maybe more for people who have never come to Islay. I totally agree with them. I am lucky, I am privileged to have chosen to come and live on this special island. Have I chosen or have I been chosen?

I will never forget my encounter with Islay nearly thirty years ago. I had flown with fellow French journalists to visit Bowmore distillery. I was the last one to leave the plane. As I stepped out, I was immediately shaken from head to toe by a huge shiver. I could not move, it was like I was tetanized, close to fainting. I did not understand what was happening. It was not the cold. We visited in september and the air was fresh and fragrant. I could identify all the smells which came to my nostrils : sheep suint, kerosene, freshly cut grass, some distant floral scents and that strong, heady iodine fragrance brought by the sea breeze. This strange reaction lasted for a few seconds but travelled with me during all my stay. Later I understood what had happened : I was in love. It was love at first nose…

Thirty years later, the magic is still there. No wonder I decided to come and live on Islay eleven years ago. Like many people, if I came to Islay for the whisky, I stayed for other reasons : the beauty of the island and the gentleness of the people.

Smells have always played a major part in my life. Born in Normandy, I grew up in a small village and spent a lot of time in my granny's kitchen, helping her to prepare the meals and experiencing the mouth-watering smells of the marvels she used to bake. Apple-desserts, warm bread, nutty butter, the complex fragrances of the family calvados (which was "the forbidden fruit" for children and women!)… I can still remember my early training to nosing and tasting.

I left Normandy and came to Paris to study at university. I became a journalist, shifting after a few years from general information to gastronomy. Then I discovered whisky and realized my happy childhood has led me on the spirits path. Passionate about whisky but as much keen on food, I could not abandon one for the other. So I decided to marry them; this is how I became the specialist of food and whisky pairing. I could not have dreamt of a better occupation.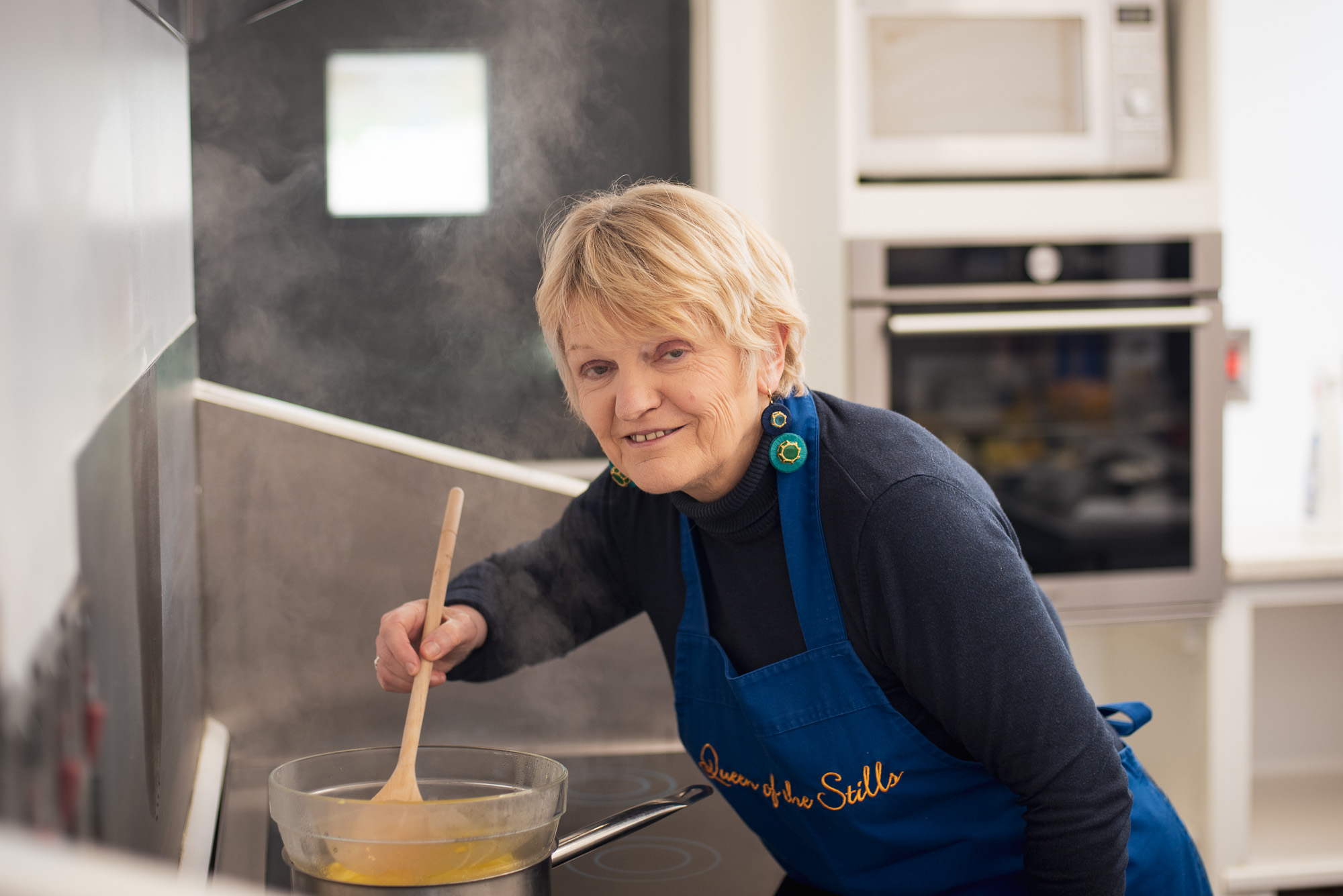 Islay is certainly the most inspiring place to concoct food and whisky combinations. Not only because I have eight distilleries at my doorstep but I am also spoilt with an amazing choice for food : the freshest seafood, from langoustines to scallops, crab and lobster, the tastiest meat – beef, lamb and venison – not to mention the herbs and vegetables from Bridgend Community garden.
These eight distilleries offer a wide kaleidoscope of profiles and flavours which are so intimately linked to the nature of the island. Once again, I have apprehended the whiskies through the fragrances of the island.
The Atlantic winds have carved a unique minerality in Kilchoman whiskies.  The smoke is light, slightly sooty and comes from the top of the kiln, not from below. It does not act as a screen but wraps up the fruit and spices.
Pairing whiskies and food take into account that light and refreshing array of aromas. First of all, one might think that a smoky whisky would match with smoked food. It is a mistake, the two smokes clash on the palate. To me, Machir Bay is a Spring-time whisky, evocative of a crisp morning walk on the beach with a distant bonfire. It has a citrussy and floral character, with the smoke wrapping up the fruity notes. A whiff of soot in the back, a fresh minty and aniseed touch. The smoke is light and evanescent. That fresh profile is the perfect companion for seafood : a scallop carpaccio with crunchy vegetables or panfried scallops with a touch of vanilla and a lemon jus; grilled lobster can be enhanced by a ginger and butter sauce.  The citrussy desserts offer a marriage in heavens (see the recipe below).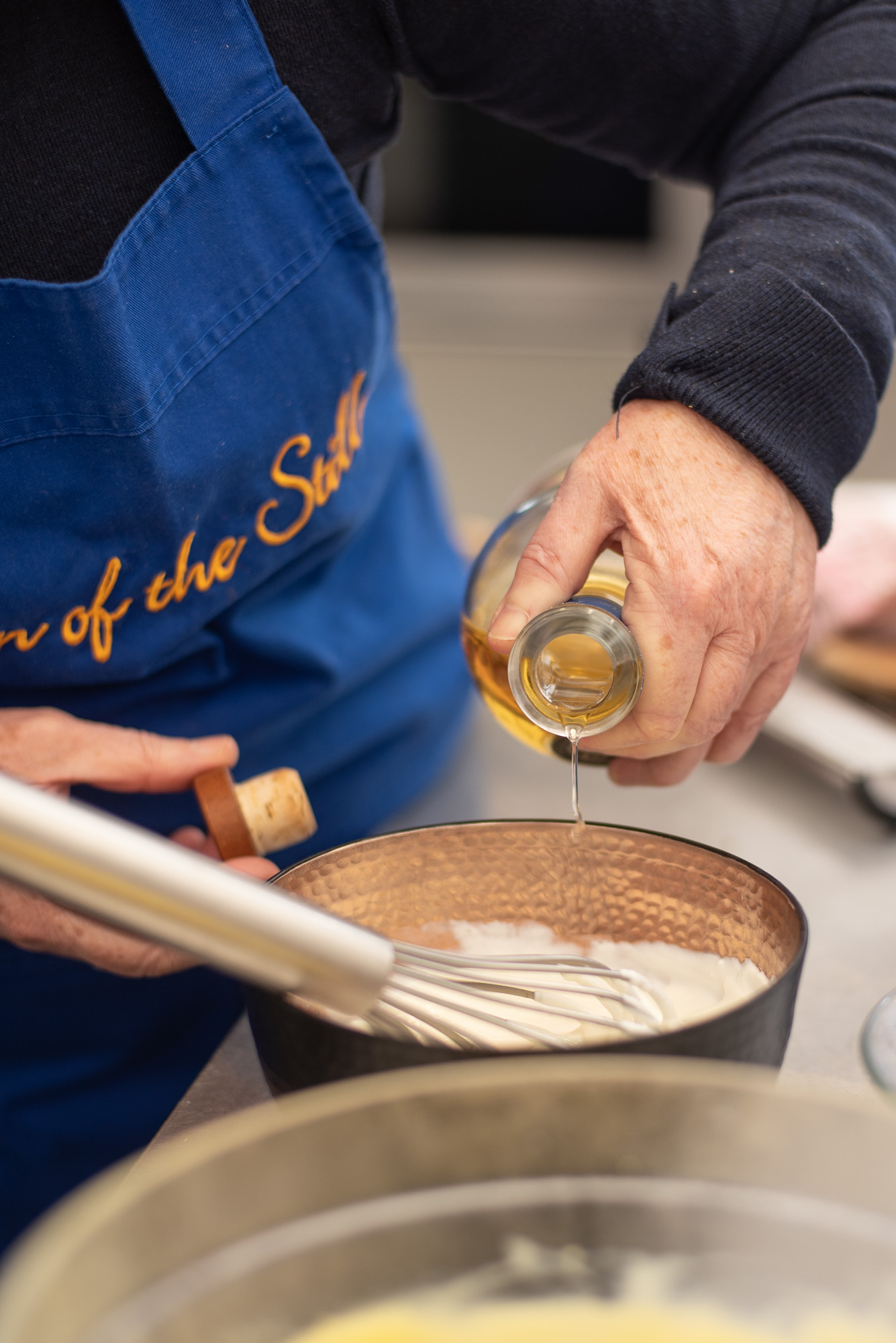 When it comes to cheese, blue cheese mingles with the smoky profile. In my book "à table, whisky from glass to plate", I suggest Machir Bay for the pear and stilton tart (p 98).
The sherry casks make a strong impact on Sanaig, bringing in a dried fruit sweetness as well as a spicy character. To me Sanaig is evocative of an indoor family gathering in Autumn with granny's sweets.  It releases dried fruit and a touch of molasses while the smoke lingers in the back. Then it brings out bittersweet dark chocolate. Its smooth and velvety texture enhances the sweetness of raisins and date jam. The dry finish reveals an array of soft spices such as nutmeg and  cinnamon with a touch of black pepper.
The pairing works in opposition. We need strong flavours to balance the sweetness but a creamy sauce will echo the smooth texture. It may sound unusual to cook beef fillet with grated chocolate. Try it, it is succulent. The chocolate (provided it has a very high percentage of cocoa, 85%, even 99% if you can find it) is used as a spice.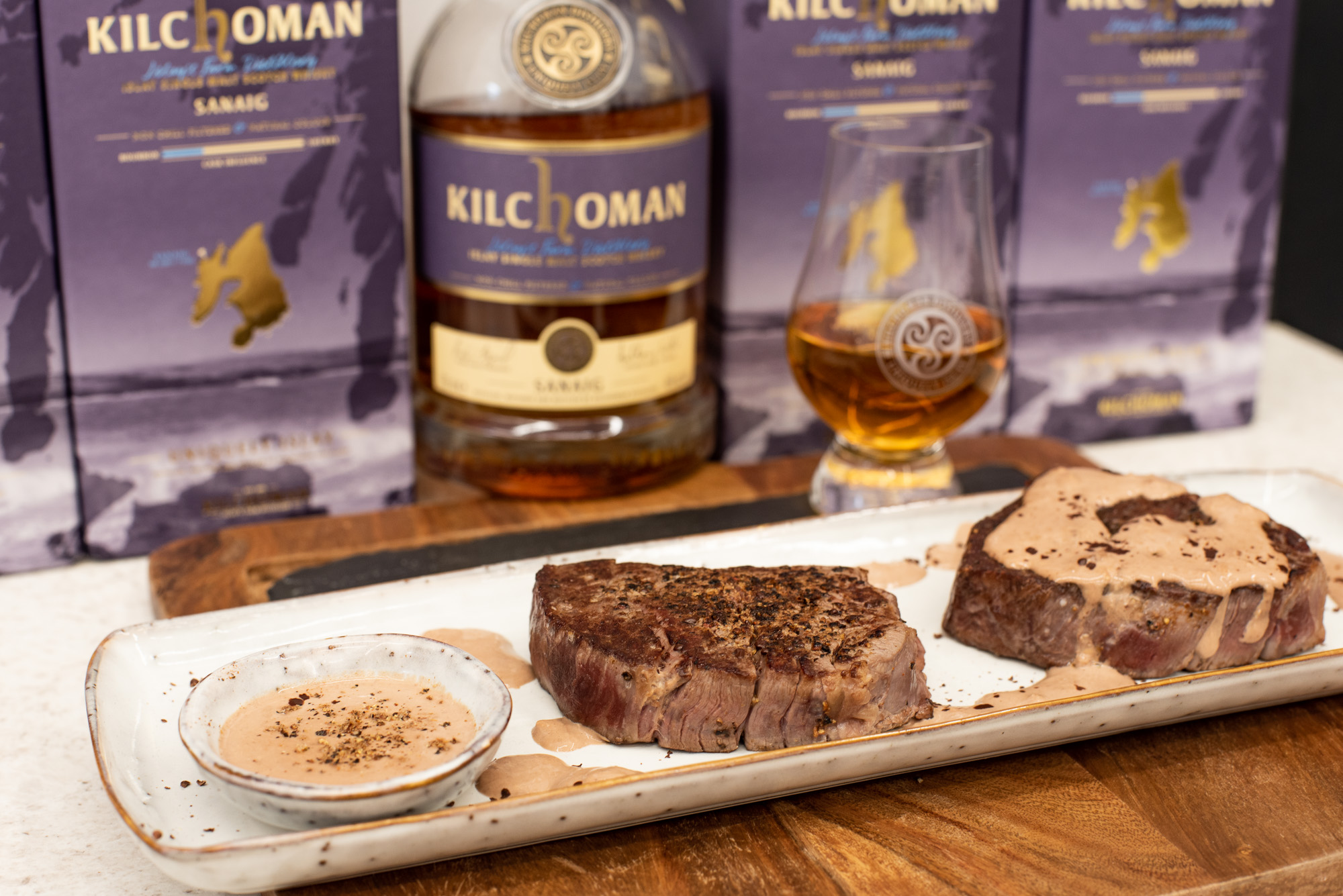 If matched with a sweet, Sanaig will be delicious with a saffron crème brûlée. Again an unsual combination but powerful. Use real saffron of course. And add a plus: mix brown sugar with 1 tbsp of cocoa before caramelizing it.
Both Machir Bay and Sanaig combine well with citrus fruit. I suggest a citrus fruit terrine in my book. Machir Bay will prefer juicy oranges, lemon or tangerine. Sanaig will be matched with some of these fruits but also candied orange and lemon.
So are you ready for a full "Taste of Islay" with a Kilchoman dinner? We are looking forward to hearing about your own experimentations. Please share.
Recipe 1
Deconstructed lemon meringue pie with Machir Bay
This recipe uses all the ingredients of a lemon meringue pie but in an easier and quicker version.
The pairing with Machir Bay (which can be served slightly chilled) offers a refreshing and light combination which enhances the citrussy notes of the whisky. A perfect dessert for a sunny Spring day.
Serves 6
3 lemons (juice and grated zest)
160g caster sugar
85g unsalted butter
3 eggs
10 shortbread biscuits
150g greek yogurt (0% fat)
2 tbsp clear honey
1 big pinch ground pepper
1 tsp lemon zest
6 small meringues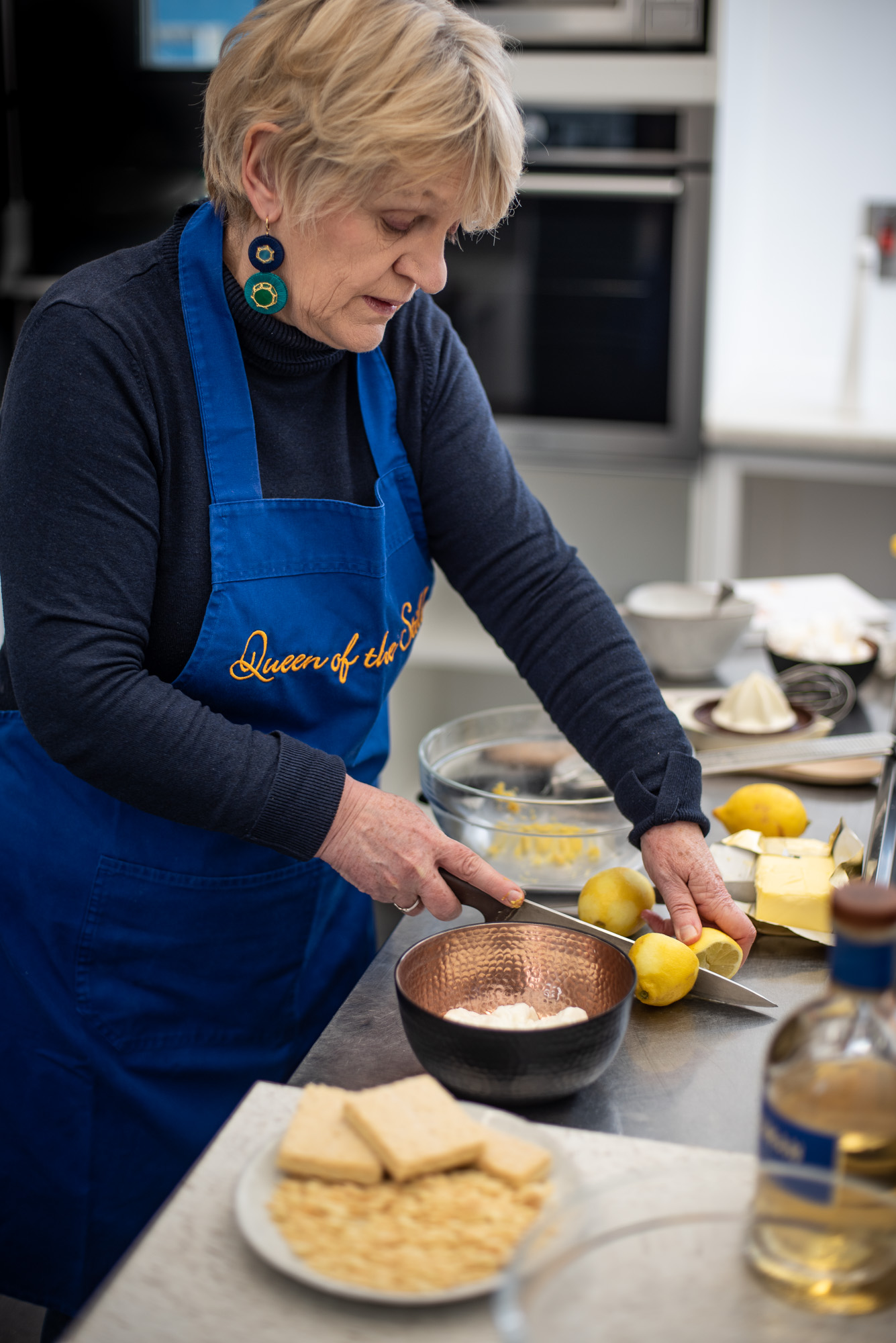 Prepare the lemon curd. Cut the butter into small pieces and put it into a bowl placed over a pan of simmering water (bain-marie). Add the sugar, the lemon juice and grated zest and stir until the sugar and butter are melted.
Whisk the eggs in a bowl and pour into the lemon juice mixture while keeping on whisking. Stir until the preparation thickens (8 to 10 minutes). Remove from the bain-marie and allow to cool for a few minutes.
Crush the shortbread biscuits into rough crumbs. Mix the yogurt with the honey, the pepper and the lemon zest (optional, you can add 2 tbsp of Machir Bay).
In six glasses, place the shortbread crumbs in the bottom, then two spoonfuls of yogurt, top with lemon curd. Keep in the fridge. Before serving, crumble one meringue on the top.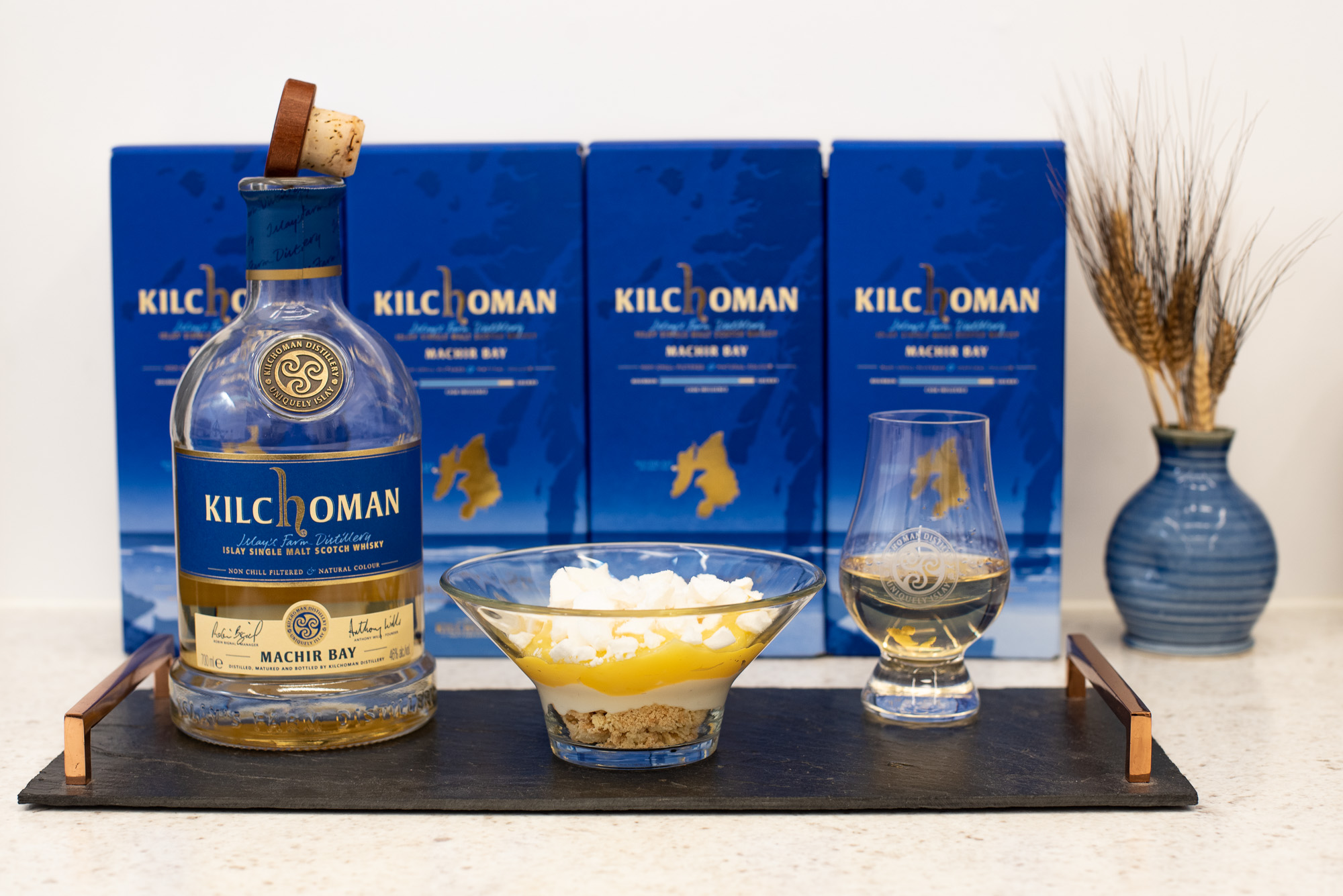 Recipe 2
Steak fillet in a creamy chocolate sauce with Sanaig
There is nothing to beat Islay beef. A succulent well-matured fillet steak will find a perfect match with the sherried profile of Sanaig. Tender and mouth melting, it reminds of the whisky smooth texture. The addition of grated dark chocolate surprises the tastebuds. The spices of the creamy sauce give a kick to the whisky and balance its sweetness. A gratin dauphinois and a few greens – the healthy touch! – will complement the dish.
Serves 6
6 steak fillets (130g each, thick cut if possible)
120 g dark chocolate (the darkest possible up to 85% cocoa or more), grated
Mixed spices : ground black pepper, a good pinch of chili, grated long peppercorns
fleur de sel
1 tbsp olive oil
30g butter
25cl double cream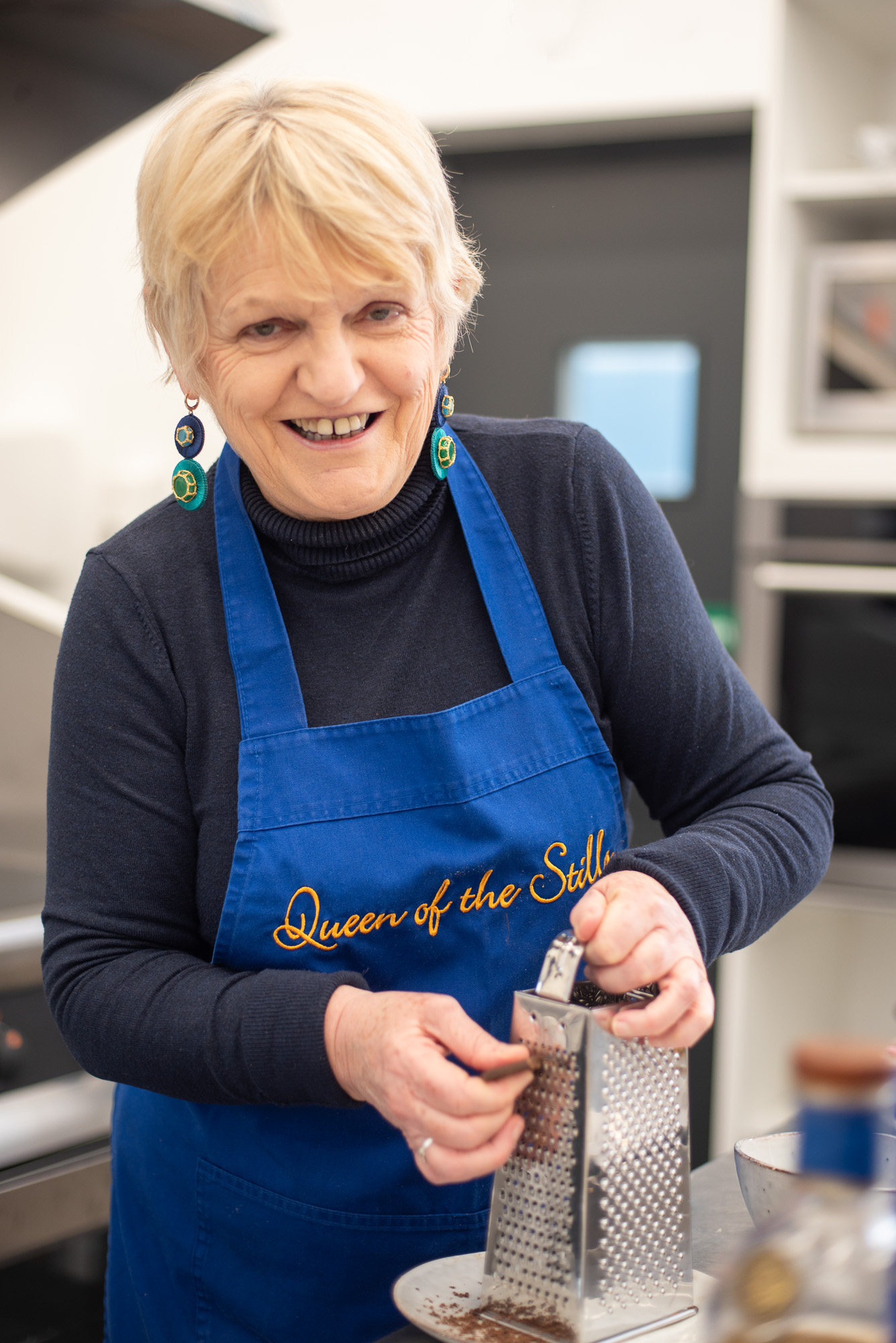 Warm a frying pan, add oil and butter. Sizzle the steaks on a high heat then turn the heat down a little. Cook the steaks accordingly to the doneness you want (rare, medium, well-cooked). Keep them on a warm dish. Deglaze the pan with the cream, add the spices and half the grated chocolate. Stir until the chcolate is melted. Pour over the fillets. Sprinkle the rest of the grated chocolate on the steaks.
Serve with a gratin dauphinois, sauteed mushrooms and steamed French beans.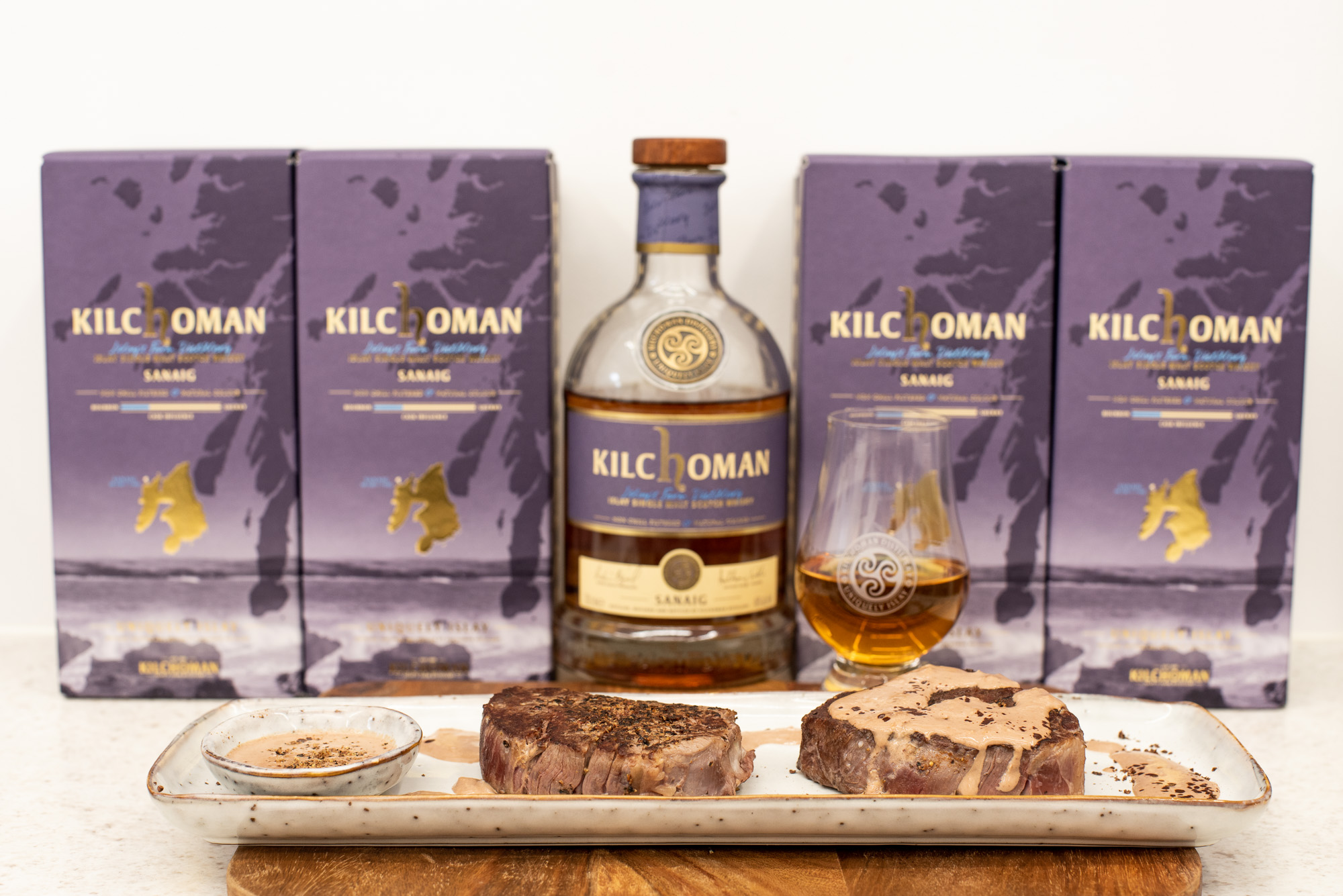 READ NEXT
DISTILLERY NEWS
The Kilchoman 16 Years Old
This is a proud moment for all at the distillery as we release our oldest global bottling to date. A combination of 21 casks have been maturing for over 16 years, predominantly ex-bourbon barrels with a hint of ex-oloroso sherry, creating a perfectly balanced single malt. With a marriage of…
November 6, 2023
READ FULL POST