NEW RELEASES
Loch Gorm 2019 Edition
April 8, 2019

Loch Gorm is our annually released sherry matured limited edition. The loch, murky and peaty in colour, reflects the dark coppery tone of the sherry matured Loch Gorm release.

As the only release in our range to be fully matured in sherry casks (from filling to bottling), Loch Gorm has always attracted special attention from whisky fans, especially given that just 15,000 bottles will be released.

Loch Gorm has been evolving over the years, each new edition containing a different combination of casks. This year Anthony has selected twenty oloroso sherry butts from 2006, 2007, 2008, 2009 and 2011, meaning that for the first time Loch Gorm will contain 12 and 13 year old casks.
"It has been fascinating to see first-hand how the character of our oloroso butts have developed. Recent editions of Loch Gorm have seen a coming-of-age for the range, the addition 12 and 13 year old casks add a fantastic balance and complexity." Anthony Wills, Kilchoman Founder & MD

Anthony's tasting notes: Layers of stewed plums, pears and tropical fruit have become more defined in the casks as they age, complimenting the bold, spicy and rich character of early releases, creating a beautiful marriage of Kilchoman and oloroso sherry cask maturation. I'm delighted with the 2019 release and look forward seeing how it's received."
Loch Gorm 2019 will be £69.90 in the UK (70cl, 46% abv) and available from 'all good whisky shops'. A limited number of bottles will also be released today (Monday 8th April) via our online shop. Loch Gorm is expected to hit shelves in Europe by the end of next week and further afield soon after that. Please drop us an email if you have any questions about where to find this or any other Kilchoman releases.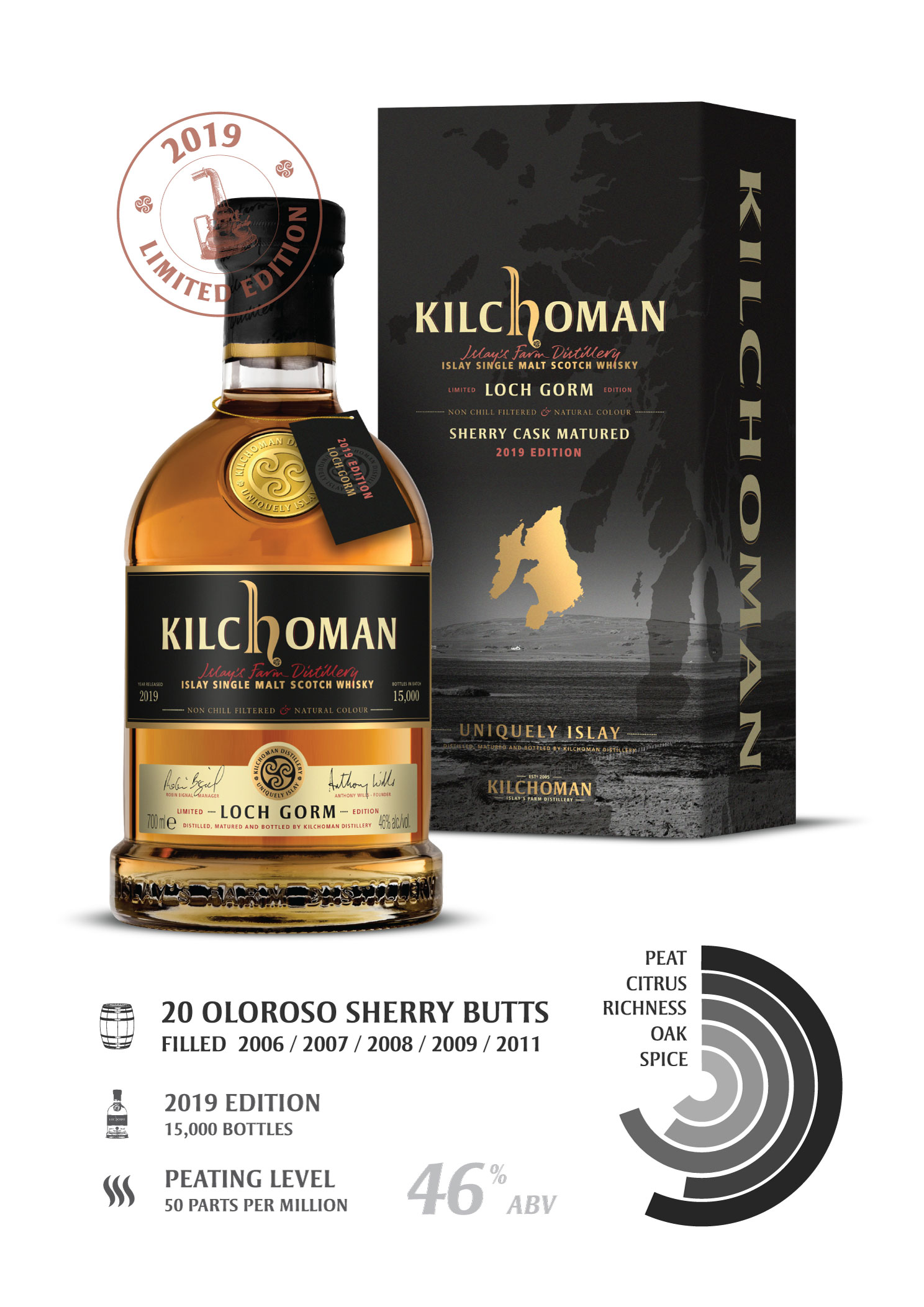 READ NEXT
DISTILLERY NEWS
100% Islay 13th Edition
The 100% Islay 13th Edition was distilled from barley grown on the farm at Kilchoman in 2012, 2013 and 2014, it was then matured for a minimum of 8 years before 44 bourbon barrels were selected for this year's release of bottles. "The 13th Edition is the first release since…
September 11, 2023
READ FULL POST