Featured
JOIN OUR 360° ONLINE FÈIS ÌLE – THURSDAY 3rd JUNE
May 14, 2021

Though we're sad you can't be on Islay in person, we're going to do our best to show you every inch of Kilchoman with our 360° FÈIS ÌLE!

The 360° experience will let you explore every nook and cranny of the distillery and our unique whisky-making process.  Scroll up, down, left, and right on the screen as you are guided from the barley field to bottling hall by the team.  You will be taken across the farm, into the malt floor, delving deep into the stillhouse, and through casks in the warehouse, almost like you're there yourself (but not quite)!  We will be doing everything we can to bring Kilchoman and our team to you, so sit back, pour yourself a dram and enjoy the day.

Full schedule (Islay Time), available via Kilchoman Facebook, Instagram and YouTube.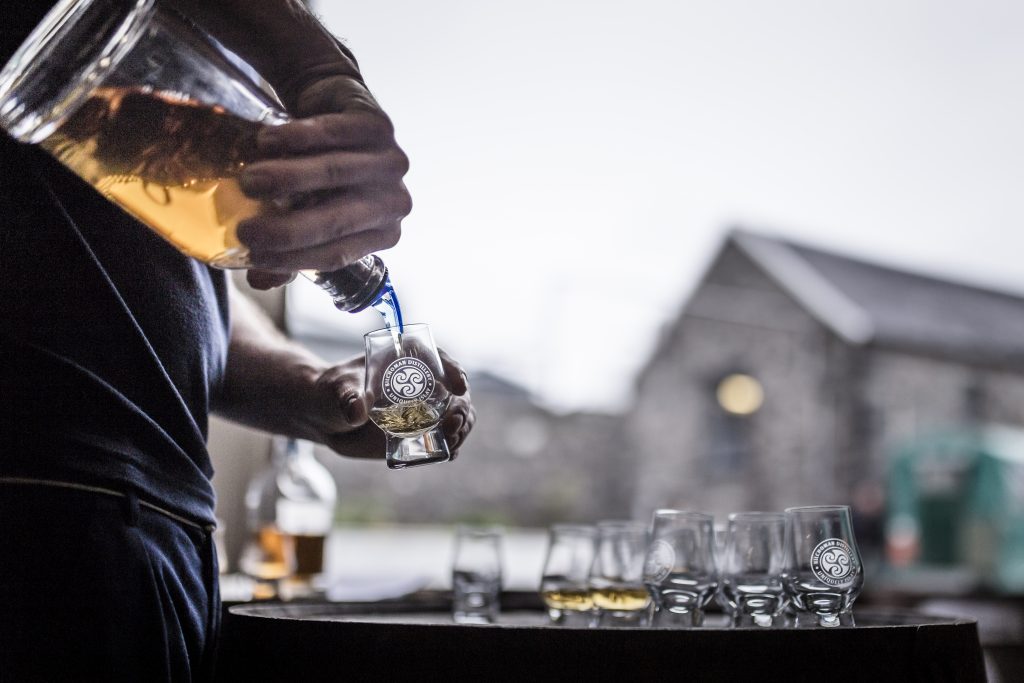 12 Noon – Kilchoman 'DNA' Live Tasting – Join us for some drams as we kick off our Fèis day celebrations with a few cask strength core range and 2021 limited editions.
13.00 – On the Farm – Explore the farm with Islay Heads, general manager here at Kilchoman, as he takes you through our different fields, barley varieties, sheep and cattle.
[Followed by live Q&A with Islay – approx. 13.30]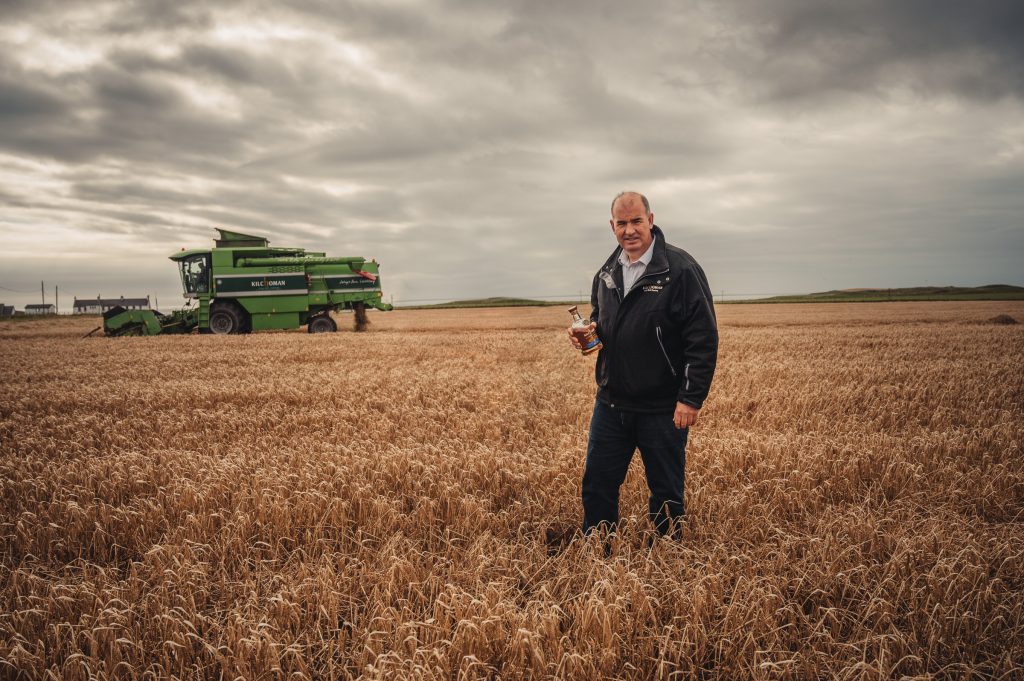 14.00 – Malting and Peating – Derek Scott, our expert maltman, will teach you everything you need to know about our traditional floor maltings, the equipment we use and how to get the perfect germination.
[Followed by live Q&A with Derek – approx. 14.30]
15.00 – In the Stillhouse – As production manager, Robin Bignal is the perfect person to guide you through the stillhouse from milling and mashing to fermentation and distillation.  You will be able to get access behind-the-scenes to the inner workings at the heart of Kilchoman.
[Followed by live Q&A with Robin – approx. 15.30]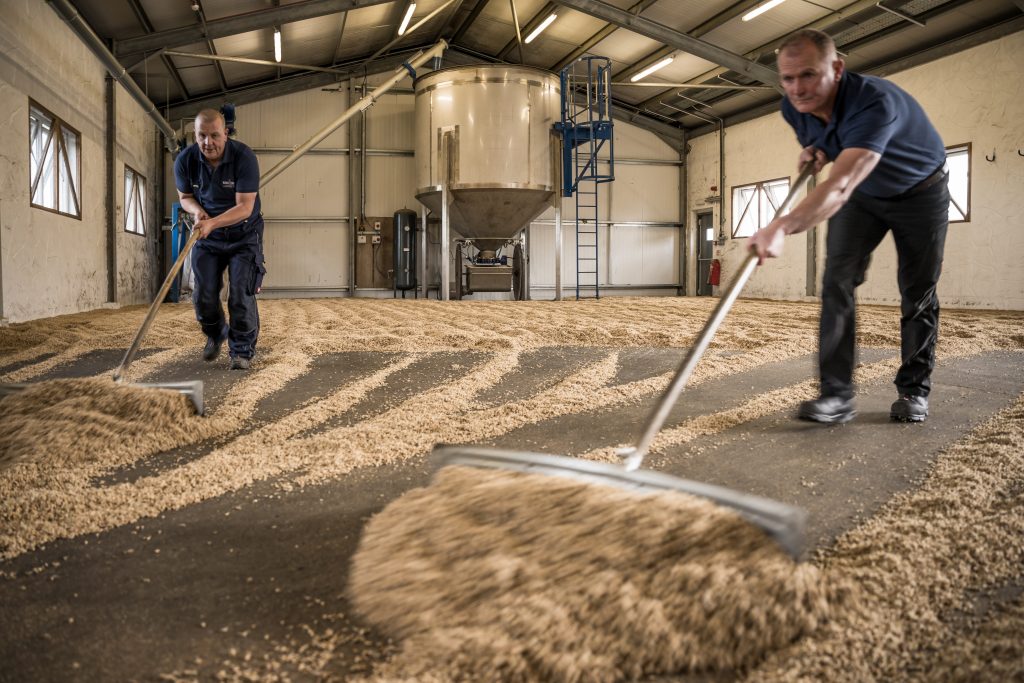 16.00 – Maturing in the Warehouse – Managing director, Anthony Wills, will give you his founders take on cask maturation, discover how he created our unique Kilchoman range of whiskies and what experimental casks may be lurking in the dark corners of the warehouse.
[Followed by live Q&A with Anthony – approx. 16.30]
17.00 – Vatting and Bottling – To complete the whisky-making process it must be vatted and bottled.  Michal Besser manages these final stages of production and will give you the lowdown on how we vat each release and put the finishing touches to them on the bottling line.
[Followed by live Q&A with Michal – approx. 17.30]
18.00 – 'Through the Ages' Live Tasting – Tune in for a tasting of our New Make Spirit before following the journey of maturation with samples of 2006, 2011 and 2016 casks.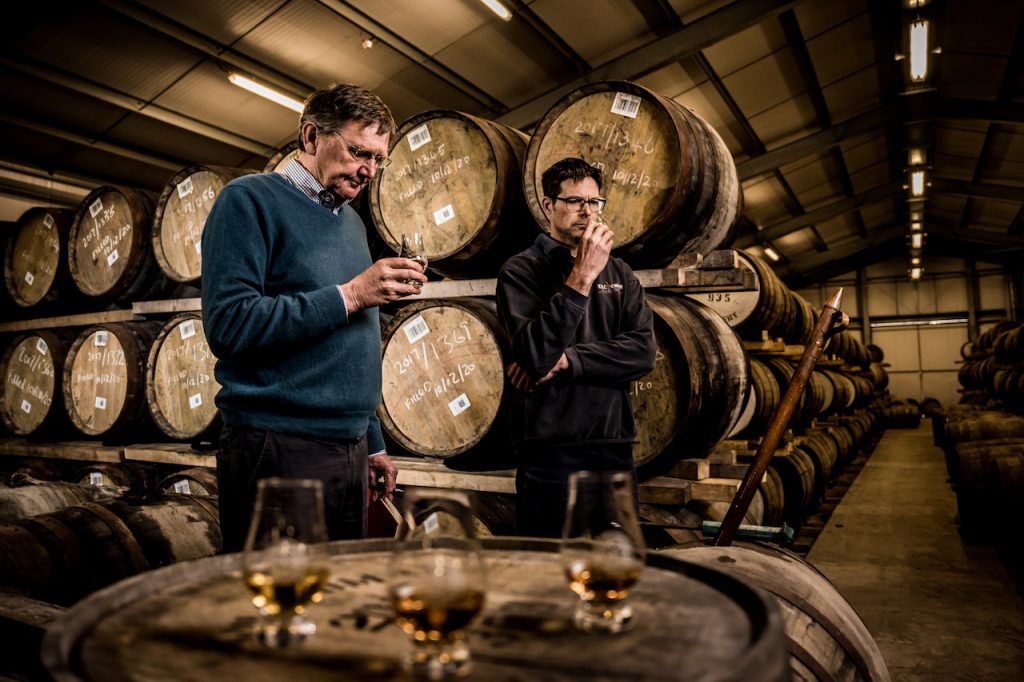 19.15 – 'Experimental Casks' Live Tasting – Join us as we taste some of our full maturation Cognac, STR, Calvados and Port casks.
Full details of the Live Tasting Packs are below but I am afraid they are no longer available to purchase.  If you missed out then please join us regardless, grab a dram from your home selection and join the fun!  We will be recording all the tastings for people to re-watch whenever you fancy.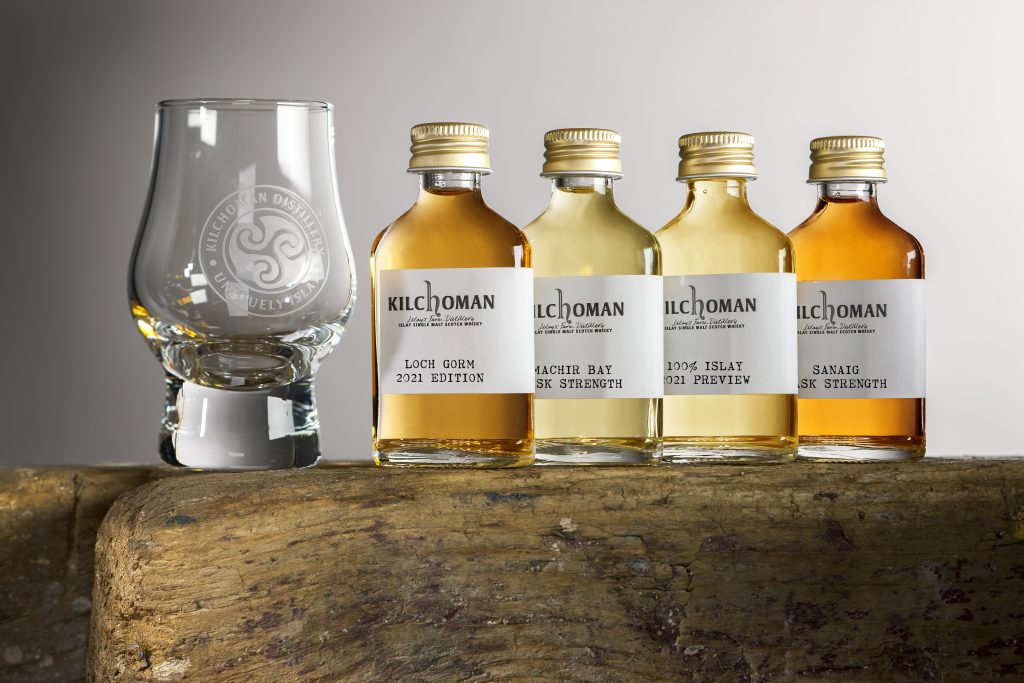 12 Noon – 'DNA Live Tasting – The Kilchoman core range with a twist!  Before reducing batches of our signature peated single malts of Machir Bay and Sanaig to their regular bottling strength of 46%, we bottled them at their natural cask strength to appreciate the full power and character of our core range whisky.  This pack also contains the latest edition of Loch Gorm and a preview of the yet to be released 100% Islay 11th Edition.
Machir Bay Cask Strength – 58.9% (20ml) – Our signature peated single malt is a vatting of Kilchoman matured in a high proportion of bourbon casks with a small sherry cask influence.
Sanaig Cask Strength – 58.9% (20ml) – Although also matured in both sherry and bourbon casks, Sanaig has a high proportion of oloroso influence, giving a vastly different character to the whisky.
Loch Gorm 2021 – 46% (20ml) – Released annually in limited editions, the Loch Gorm range is always matured entirely in oloroso sherry casks.  The 2021 edition is a vatting of 24 oloroso sherry butts filled in 2011 and 2012.
100% Islay 11th Edition Preview – 56.5% (20ml) – Distilled from our 2007, 2009, 2010 and 2011 barley harvests, the 11th edition is matured for a minimum of 9 years in 26 bourbon barrels and 7 oloroso sherry butts.  This sample is a cask strength preview of the upcoming release.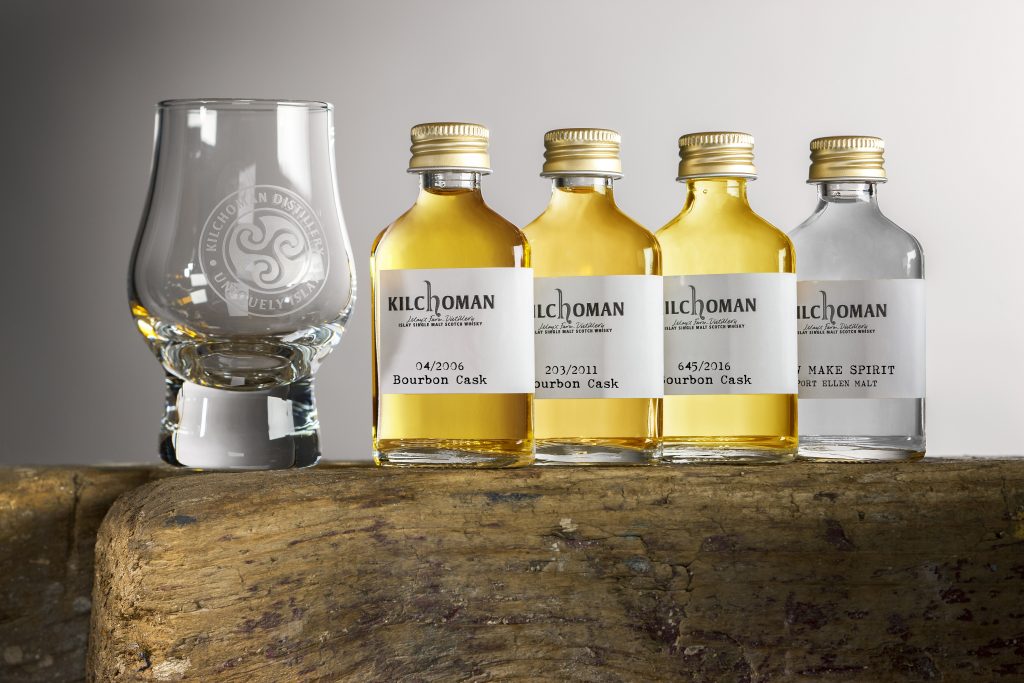 18.00 – 'Through the Ages' Live Tasting – Taking you through the 15 years of Kilchoman maturation.  We will start with tasting our New Make Spirit before following the journey of maturation through 2006, 2011 and 2016 ex-bourbon barrels, fascinating to see how the casks have impacted on the spirit character and colour over the years.
New Make Spirit – 63.5% (20ml) – Spirit flowing straight from our stills is reduced to 63.5%abv before being filled into cask for maturation.  Our spirit is clean, packed full of citrus fruit and malty notes with maritime smoke.
2016/645 ex-bourbon barrel – 59.7% (20ml) – Maturing since 2016, this whisky has taken on plenty of character from the barrel and a significant change from the new make spirit is evident on the nose and palate.
2011/203 ex-bourbon barrel – 53.2% (20ml) – 10 years maturation and this 2011 whisky has further impact from the barrel, the balance of the Kilchoman spirit and the cask influence really developing over time.
2006/04 ex-bourbon barrel – 53.7% (20ml) – Something special from our very limited 2006 stock, just the 14th cask ever to be filled at Kilchoman!  One of the very oldest casks at the distillery, over 15 years of maturation has transformed this whisky since it was first filled as spirit.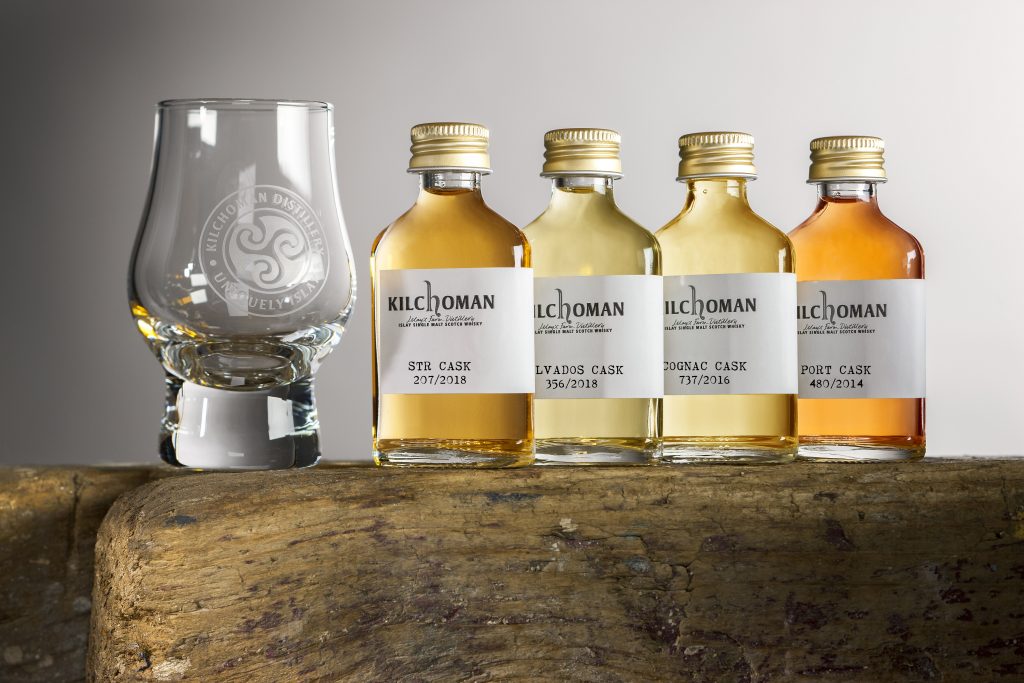 19.15 – 'Experimental Casks' Live Tasting – Some of the different and unfamiliar casks maturing in our warehouse.  Over the years we have released a number of limited edition experimental cask types, from last year's Fino to the upcoming Madeira, we have always enjoyed trying something a bit different.  These casks are all full maturation and not finishes, allowing the full impact of the different cask types to be felt on the whisky.
Calvados Cask 356/2018 – 62.1% (20ml) – This cask is selected from our first batch of full maturation Christian Drouin Calvados casks.  These high quality casks bring lots of fresh apple fruitiness to the whisky, even after a short period of maturation.
Port Cask 480/2014 – 57.3% (20ml) – A Ruby Port cask at almost 7 years of age.  Ruby Port casks similar to this have been used in limited releases we have done in the past however, this single cask has had a far longer maturation.
Cognac Cask 737/2016 – 58.4% (20ml) – The rare quality of Cognac Ferrand has added great depth to the Kilchoman spirit.  This cask is one of the first test batch to be filled in 2016.
STR Cask 207/2018 – 61.5% (20ml) – This is an STR (Shaved, Toasted and Re-charred) Red Wine cask.  This specific cask type is very uncommon but something that has worked very well with our spirit.
READ NEXT
The Kilchoman 16 Years Old
This is a proud moment for all at the distillery as we release our oldest global bottling to date. A combination of 21 casks have been maturing for over 16 years, predominantly ex-bourbon barrels with a hint of ex-oloroso sherry, creating a perfectly balanced single malt. With a marriage of…
November 6, 2023
READ FULL POST