BLOG POST, Featured
Islay's only Single Variety, Single Farm, Scotch Whisky
September 26, 2018

After one of the best summers for decades, the days are shortening and the wind and rain have returned.  The barley farmers on the mainland have long since packed away their combines, here on Islay it's a slightly different story. The late sowing of our barley, 6-8 weeks behind farmers on the mainland means we've missed the better weather for harvest and we're now battling the autumnal weather to get the barley off the fields.

Single Variety

This year we planted a total of 97.5 acres.  After trialing a new barley variety called Laureate last year, we decided to sow 77.5 acres of Concerto, a variety that we know from experience does well on Islay, and 20 acres of Octavia, a variety that we had not grown before.

It would appear that the Concerto has faired slightly better than Octavia. The Concerto ear (the barley head which holds the grains) is notably bigger, the grains bolder and there are more grains per ear, on average 28 against 22 for Octavia. This will likely mean that the Concerto barley will provide a higher yield (tonnes per acre) than the Octavia but only time will tell.

Barley varieties aside, this year we are doing things a little differently. Once harvested, in the past, all our barley (no-matter what variety) has been harvested and dried together before being malted and distilled jointly.  This year the Concerto and Octavia varieties will be harvested and dried separately, before being individually malted, distilled and matured eventually becoming…

…Islay's only Single Variety, Single Farm, Scotch Whisky…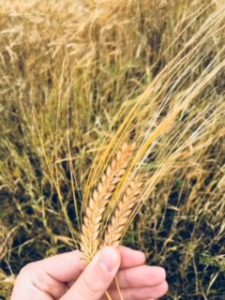 From left to right, Concerto and Octavia
Single Farm
Whisky enthusiasts have often speculated about the extent to which barley varieties influence the character of single malt and with recent improvements to our malt house, we will be able to give some answers.
The thing that will make this interesting is that this will be the first opportunity to isolate barley variety and how it alone impacts the character of the whisky.  Other comparisons of varieties and their impact on single malt have been open to variances in growing, malting, distilling and maturation.  As we have control over each aspect of production on a Single Farm, from grain to glass, everything  apart from barley variety, will be identical; from growing the barley in neighboring fields, malting on the same malt floor, distilling in the same stills and maturing in the same casks in a single warehouse.
All being well, we should finish harvesting by the end of the week and come January we will begin malting and distilling the first batches of Concerto  and Octavia barley, at which point we will update you on the initial findings.
Anthony Wills, Kilchoman Founder and MD "We're excited to see how this project turns out.  We fully expect there to be a difference between the varieties however the extent and particular character created by the different varieties will be very interesting to see.  I look forward to tasting the spirit early next year."
READ NEXT
NEW RELEASES
100% Islay 13th Edition
The 100% Islay 13th Edition was distilled from barley grown on the farm at Kilchoman in 2012, 2013 and 2014, it was then matured for a minimum of 8 years before 44 bourbon barrels were selected for this year's release of bottles. "The 13th Edition is the first release since…
September 11, 2023
READ FULL POST