BLOG POST
Islay's Lost Distilleries
November 8, 2018

Take a drive around Islay and virtually every signpost points the way to an iconic distillery… or village, depending on how you want to read it. Islay's eight distilleries mean it holds a special status on the map of scotch producers however wind the clock back 200 years and almost every settlement on the Island was home to at least one distillery with over twenty registered distilleries and numerous other semi-legal distillers.

Despite the passing of the Excise Act in 1644 none of his majesty's excisemen were stationed on Islay until 1797, allowing small scale distilling to continue for many years after our mainland cousins, who were being fined or imprisoned for similar practises. The Gaugers (excisemen) reluctance apparently due to the "wild and barbarous people".

When the excisemen did eventually arrive on Islay the transition from unrestricted distilling to payment of registration and duty under the Excise Act was not easy for the people of Islay. In 1801 a total of 233 people were accused of distilling privately, forcing many of Islay's 'hobbyist distillers' to go down official channels, registering as distillers to avoid heavy fines and possible imprisonment.

Between 1814 and 1836 fourteen Islay distillers transitioned from the caves and glens to ply their trade as fully paid up distilleries. Whilst a handful of these small-scale distillers survived, some merged to become what we now know as Lagavulin and Laphroaig distilleries, many didn't. Below is a brief history of Islay's many Lost Distilleries.

Malt Mill Distillery, Established 1908

When Sir Peter Mackie lost his bitter legal dispute to retain the sales agency for Laphroaig whisky in 1907 he reacted in characteristic style by deciding to make his own "Laphroaig" type whisky, and in 1908 built a traditional small pot-still distillery within the Lagavulin complex. Despite hiring staff from Laphroaig and attempting to copy the Laphroaig recipe, it did not succeed, perhaps because it used a different water source. Malt Mill tried to replicate a traditional style of Islay Whisky, using only peat-dried malt, and it is reputed to have had heather added to the mash. It was always a small scale operation producing 25,000 gallons of proof spirit (113,500 litres) in its first year, compared with 128,000 gallons (581,120 litres) at Lagavulin. What is perhaps surprising is that it survived until 1962 when it was merged with Lagavulin and its coal-fired stills moved to the latter's still house for another seven years use. The Malt Mill distillery building is now the reception centre within the Lagavulin Distillery site.

Mulindry Distillery, Established 1826

This is perhaps one of the shortest lived and unlikely distilleries on Islay. Built by John Sinclair in 1826 it operated at a site beside the junction of the Neriby Burn and the River Laggan, next to McNeill Weir (the start of the Bowmore Distillery lane) and its machinery was water-powered from the nearby river. Its output in 1826-7 was 4,332 gallons (19,667 litres) of malt whisky. Sinclair, according to the Local Excise Officer in 1831, liked his own product a little too much which may account for his bankruptcy that year and emigration to America. The distillery appears never to have reopened and today all that is left is a pile of overgrown stones and derelict croft.

Newton Distillery, Established 1819

The Small Stills Act of 1816 encouraged quite a few individuals to take out distilling licences and in 1819 Thomas Pattison opened a farm distillery at Newton, located on the Bridgend to Ballygrant road. Newton produced 6,122 gallons (27,793 litres) of spirit in 1826-7. It operated continuously until 1837, by which time most farm-scale distilling operations had closed down on Islay. Little is known about the operation of the distillery although there is still and outbuilding at Newton House that could have been part of the distillery and the metal bars on the window are perhaps signs of previous use as a bond.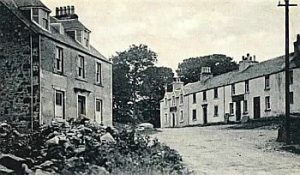 Octomore Distillery, Established 1816
This farm-scale distillery on an ancient site behind Port Charlotte was run from 1816 until 1840 by the Montgomery family and licenced to George Montgomery. It appears to have operated as a single-still distillery with a wash still of 60 gallons volume (272 litres) with 998 gallons (4,530 litres) of spirit produced in 1817-18, this rose to 3,551 gallons (16,121 litres) in 1826-7. Little is known about its operation until the death of George and his brother around 1840, when it fell into disrepair and the lease was eventually relinquished to the laird, James Morrison in 1854 for £150. Buildings in the farm steading remain today, although some have fallen down and others have recently been converted into holiday cottages, so guests could well be sleeping with the spirits of 160 years ago! No detailed plans of the distillery buildings have yet come to life.
Port Ellen Distillery, Established 1825
Established in 1825 by the McKay family. It was operated by John Morrison & Co from 1831-34. John Ramsay and later his wife ran the distillery from 1836 until 1920, during which time they expanded the distillery. It was eventually acquired by DCL who mothballed it from 1929-67. Production buildings were then re-built by DCL and the distillery operated from 1967-83 when it was closed again during the whisky rationalisation of the 1980's. As DCL already had two other distilleries (Caol Ila and Lagavulin) Port Ellen was tragically thought to be surplus to requirements. The original distillery buildings remain, linked to the Port Ellen Maltings complex. We are told that Port Ellen may be reopened once more and given a new lease of life…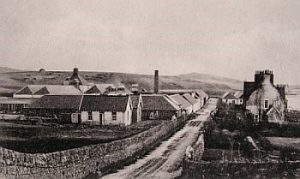 Scarrabus Distillery, Established 1817
One of the most obscure and short-lived farm distilleries on Islay. A licence was taken out in the name of John Darroch & Co for the year 1817-18. It seems likely that this was an opportunist attempt at distilling following the 1816 Small Stills Act as records reveal a 76-gallon (345 litres) single still operation in 1817-18. Scarrabus Farm exists (off the Ballygrant road), although whether this was the exact location of the distillery and what happened to it after its two short years remains to be discovered.
Tallant Distillery, Established 1821
This distillery was established in 1821 by the brothers Donald and John Johnston at Tallant Farm, near Bowmore. Excise records until 1827 show this distillery recorded as one of two 'Bowmore' distilleries. It appears to have been a true farm-scale operation with Angus Johnston listed at one point as distillery manager. It was never, however, a profitable commercial operation, perhaps in part due to generous drams John provided to visiting workmen and farmers. Output was as low as 220 gallons (998 litres) a week and reached 2,101 gallons (9,538 litres) in the year 1826-27. The business folded in 1852, although John's brother Donald and his son, Alexander, were to become successful distillers figuring prominently with Laphroaig's development. Tallant Farm exists today and many buildings from those distilling days remain, albeit some in a state of collapse.
Ardenistiel Distillery, Established 1836
After the successful establishment of Laphroaig distillery in 1816, a farm tack was leased by Walter Frederick Campbell to James and Andrew Gardiner, financiers for the Ardenistiel Distillery, who then put it in the capable hands of James and Andrew Stein of the noted Clackmannan distilling family. They ran it until 1847, operating on site immediately adjacent to the Laphroaig Distillery. Ardenistiel was then assigned to John Morrison, a previously unsuccessful manager of Port Ellen Distillery. He was unable to make a go of it and only remained until he was sequestrated in 1852. The distiller then passed to John Cassels, of whom little is known and whose tenure at Ardenistiel appears to have lasted for less than a year. It then came into the hands of William Hunter who struggled to make the distillery pay, operating at half capacity producing 33,000 gallons (149,820 litres) a year. By February 1866, William Hunter was made bankrupt and by 1868 the distillery was reported dilapidated. It was eventually thrown in with Laphroaig Distillery and its derelict buildings eventually became the site of Laphroaig's warehouses and offices today.
Ardmore Distillery / Lagavulin 2, Established 1817
Little is known of the Ardmore Distillery which shared the sheltered bay at Lagavulin with the Lagavulin Distillery. It was established in 1817 by Archibald Campbell, although when the name Ardmore was adopted is uncertain. It opened as a 92-gallon, single wash distillery, but within a year was operating under double distillation with the addition of a 30-gallon low wines still. By 1825 it was being operated by John Johnston of Lagavulin who ran both distilleries simultaneously often using the names Lagavulin 1 and Lagavulin 2. Johnston died in 1836 and in 1837 a valuation carried out shows the two distilleries as having operated during John Johnston's tenancy. The Still House (No 2), Tun Room and Malt Barn No 4 were all listed as belongings to the Laird Walter Frederick Campbell, as Ardmore Distillery. Alexander Graham, a Glasgow distiller-merchant and owner of Islay Cellar that supplied Islay Malts in Glasgow and to whom Johnston was indebted, acquired the distillery for the sum of a little more than £1100. Lagavulin and Ardmore were immediately merged and together form the site of much of the present-day Lagavulin site.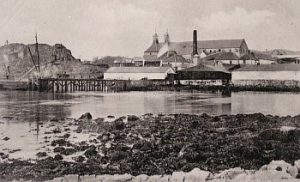 Bridgend Distillery & Killarow Distillery, Established unknown
Details of these two (or three) distilleries located at the former island capital, Bridgend, are very limited. David Simson is on record as operating a licenced distillery at Killarow until 1766 when he moved to Bowmore to establish the distillery that survives today. Its exact location is unknown. A Bridgend Distillery was custom-built by Donald McEachern Senior in 1818 with a wash still of 146 gallons producing single distillation whisky. It was then run by his son Donald Junior between 1818-21, when the company was wound up and ceased operations. Information exists that suggests a distillery was licenced to a J MacFarlane at Bridgend around 1821 with an annual output of 3,937 gallons (perhaps a new owner for the McEachern's distillery?).
Daill Distillery, Established 1814
Daill distillery probably operated as a farm distillery after the Small Stills Act encouraged distillers to go legitimate. The distilling operation was, throughout its short life, in the hands of the McEachern family with the licence being held successively by Neil McEachern from 1815-25, Malcolm McEachern from 1825-26 and Donald McEachern between 1826-34. By 1827 it had annual output of 6,043 gallons of proof spirit. Its demise, like that of many inland distilleries on Islay, was probably sealed by the difficulties of transporting the product to the mainland markets. Buildings in remarkably good condition at Daill farm exist, and these could well have been the location of the McEachern family distilling operation.
Lochindaal distillery aka Port Charlotte and Rhinns, Established 1829
Lochindaal was a purpose-built distillery in the Rhinns of Islay which survived in the 20th century. Located in the heart of Port Charlotte village it was constructed for its first licencee, Colin Campbell, in 1829. He only held onto it for two years and subsequently it had many owners: McLennan & Grant from 1831-2; George McLennan 1833-5; Walter Graham 1837; Henderson Lamont & Co until 1852; Rhinns Distillery Co 1852; William Guild & Co to 1855 before a period of stability under the ownership of John B Sherrif until 1895 and then J B Sherrif & Co Ltd up to 1921. It was eventually taken over by Benmore Distilleries Ltd in 1921 prior to that company's acquisition by DCL. That signalled the end of Lochindaal and it closed in 1929. Some of it was used by the Islay Creamery until the early 1990's and the shore-side warehouses remain in use by a local garage and the Islay Youth Hostel and Field Centre, whilst a roadside building is now used for vehicle repairs and the distillery cottage is inhabited. The bonded warehouses on the hill behind the distillery site have been in continuous use by other distillers and are currently used by the Bruichladdich Distillery. This is one lost distillery on Islay that has a good photographic history, which clearly records the distillery site during its century of operation.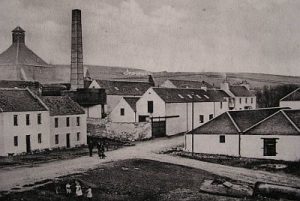 Lossit Distillery, Established 1826
Lossit Distillery was located at Lossit Kennels, not far from Ballygrant on the minor road to Lossit Farm, close to Loch Ballygrant. It was a medium-sized farm-scale operation and in 1826-7 it produced 12,200 gallons (54,480 litres) of proof spirit. It was operated by Malcolm McNeill from 1826 to 1834, by George Stewart until 1852 and a John Stuart thereafter for a further 10 years. This makes it one of the longest surviving 19th century farm-scale distilleries on Islay. There is a possibility that Bulloch, Lade & Co used the Lossit warehouses (perhaps to store Caol Ila whisky) until 1867. Today the house and kennels remain, although where whisky distilling actually took place remains a mystery and there is nothing left of the warehouses.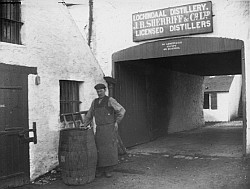 Other Islay locations thought to have operated as licenced distilleries include: Ballygrant (1818-21), Freeport (c 1847), Glenavullen (1827-32), Octovullin (1816-19), Upper Cragabus (c 1841) and Torrylin (no dates available)
Researched & written by whisky history enthusiast Graham Fraser.
Following visits to Islay from the late 1990s onwards, Graham discovered the existence of early licenced farm distilleries with no written history. Through site visits and public record research he was able to shed light on the individuals & their distilling stories from Islay's past.
Thank you to Graham for sharing his findings with us.
READ NEXT
DISTILLERY NEWS
The Kilchoman 16 Years Old
This is a proud moment for all at the distillery as we release our oldest global bottling to date. A combination of 21 casks have been maturing for over 16 years, predominantly ex-bourbon barrels with a hint of ex-oloroso sherry, creating a perfectly balanced single malt. With a marriage of…
November 6, 2023
READ FULL POST