Featured
Gleneagles – The Cocktail Competition
November 22, 2021

On the 9th of November, Gleneagles Hotel hosted a Cocktail Competition in which their talented team of mixologists had the opportunity to create, name and present a Kilchoman Whisky based cocktail to a panel of guest judges.  With a VIP trip to Islay to visit the distillery as the prize for the highest scoring cocktail, the team pulled out all the stops to impress!
Behind closed doors at in-house American Bar, Gleneagles-inspired speakeasy bar, the judges sat down while the team got ready with their ingredients and the glassware.  First up was Andrei with his cocktail named, 'Ballinaby.'  The inspiration for the name came from the spectacular 5 metre high standing stones at Ballinaby which is located on the north side of Loch Gorm.
Andrei presented a layered cocktail to represent the magnificent standing stone, the vegetation and views around the area.

Ballinaby

– 50ml Machir bay

– A bar spoon of honey, lemon and

nutmeg syrup

– 10ml yellow chartreuse

– Stirred and poured over a block of ice

– Served with sherry flavoured soda

– Garnish with maraschino cherries covered in honey crumbles
Second up was Emilio with 'Machir Oyster.' He told us the story of the encounter of two talking oysters on the shore of Islay and the drink he was offered while listening to their travel stories and samples of the souvenirs from the distant seas they visited.

Machir Oyster

– 50ml of Machir Bay

– A bar spoon of sugar

– 25ml of fino sherry

– Pinch of salt

– 25ml of plum sake

– Stirred in a coupette over ice, and finely paired with a coconut jelly and chilli slice
Gordon was our third competitor, and he was inspired by Masataka Taketsuru's journey to Scotland and the series of events that brought him back home after three years with Rita, the love of his life.  He talked about the path that led Masataka Taketsuru, as well as the influence of his Scottish wife, into the creation of one of the most famous distilleries in Japan.

Beating It

– 45ml Kilchoman Port Cask Matured

– 10ml Tonic Wine

– 25ml homemade beetroot sherbet

– 20ml lemon juice

– 25ml egg white

– Double stirred in a coupette and served with a dry beetroot slice
Our fourth drink was made by Giorgio, the head of coffee at Gleneagles.  This time we travelled with our palate as the idea behind this pairing was to create a perfectly balanced cocktail with coffee without overshadowing Machir Bay's fruity and floral aromas.

Expresso Scottini

– 50ml Machir Bay

– 50ml cold brew coffee from Kenya

– 25 ml homemade syrup from

Cascara (coffee husk), rose petals,

and sugar

– 55 ml lemon juice

– 30 ml clarified milk

– Stirred in a goblet, served with a sugar and

rose petal rim.
And to finish off our samplings, Theresa brought us right into the Christmas spirit with her reinterpretation of a white Russian on apple strudel.  This was another story lead by flavours as Machir Bay was the inspiration for this drink and the idea of the Strudel was to enhance the notes of apples and the creaminess of the single malt.

Strudel

– 50ml Machir Bay

– 25ml Roots Mountain honey

 – Homemade gala apple and

cinnamon syrup

– Topped with double cream

– Garnished with a slice of dried gala apple

seasoned with cinnamon, served over ice in a tumbler.
Lots of laughter was had and everyone enjoyed the chance to sample all these phenomenal drinks.  Eventually, it was time to review the scores and name the winners, only two of them could win a VIP trip to the distillery!  After much debating, as second and third place were extremely close in score, the hosts were thanked, and the winners were named.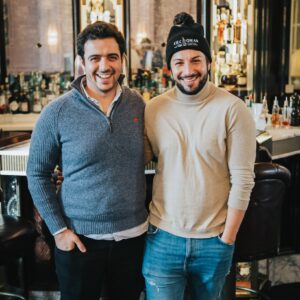 Andrei and Emilio, who created the first and second drinks, were placed first and second! They couldn't have been happier and kindly posed for a picture with their new Kilchoman hats.
Their drinks will be available at the American Bar and the Century Bar from 2022, but if you are visiting before then, you might be able to request them in advance.
A special thanks to all the people involved in this event, especially Michele Mariotti and his wonderful team at Gleneagles, and also to our secret judges for taking the time to be involved in the event.  A great day was had by all.
READ NEXT
Featured
The Kilchoman 16 Years Old
This is a proud moment for all at the distillery as we release our oldest global bottling to date. A combination of 21 casks have been maturing for over 16 years, predominantly ex-bourbon barrels with a hint of ex-oloroso sherry, creating a perfectly balanced single malt. With a marriage of…
November 6, 2023
READ FULL POST