Featured
European Tour 2023
March 20, 2023

The Kilchoman Land Rover is heading back on the road! After European tours in 2014, 15′, and 18′ we're loading up the Land Rover with Kilchoman goodies and heading across Europe once again. This time we'll be hitting 13 countries during a six week tour, starting in Luxembourg on April 16th, finishing back on Islay for our Fèis Ìle.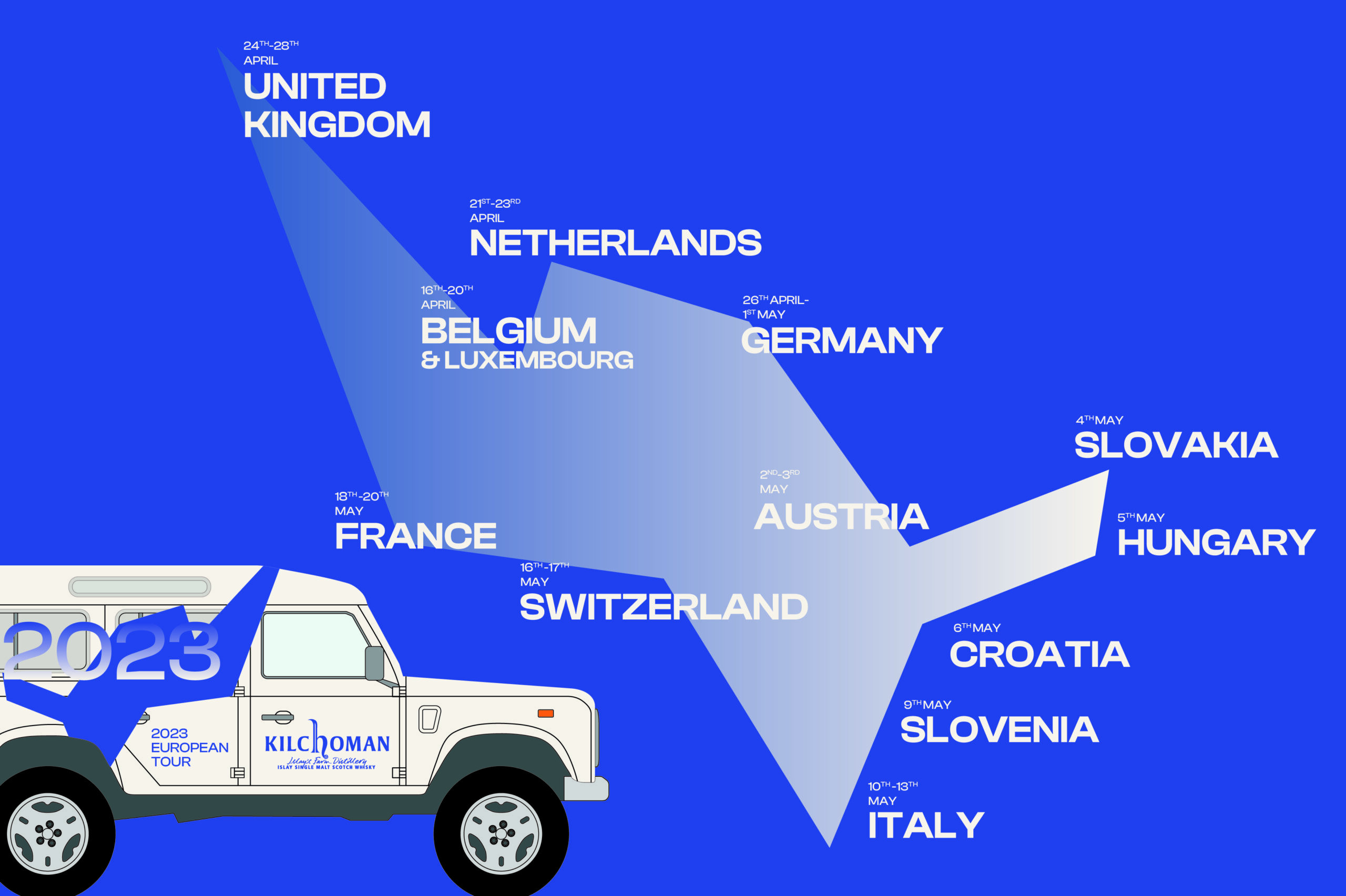 As well as our range of award winning whiskies and an exclusive tour bottling, we'll also be bringing some of our famous new make spirit. Robin Bignal and his production team will be dialling in via live feed from the distillery to explain how we make our unique spirit and where those aromas and flavours come from.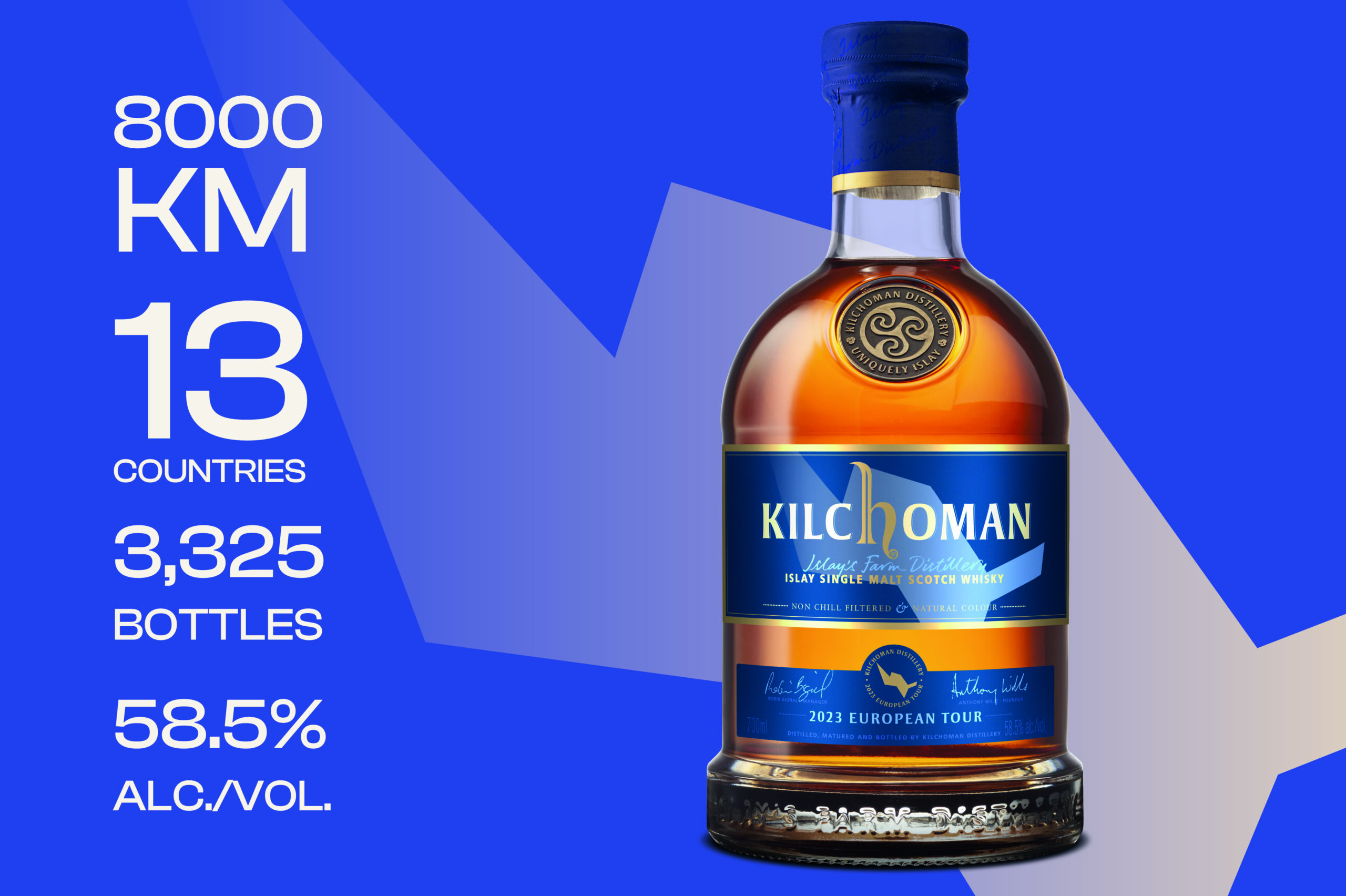 The European Tour limited edition release of 3,325 bottles is exclusively available at the tour stops. Matured in bourbon and port casks and bottled at natural cask strength (58.5%), this release is a punchy mix of red berries, mixed spices, fresh vanilla sweetness and integrated maritime peat smoke. You don't want to miss out on this one!
See the full list of tour stops below, a blend of informal afternoon events and larger evening tastings. Come along and say hi to the team, hear some stories of life at Kilchoman, taste some great whisky and have some fun!
Belgium / Luxembourg
16TH APRIL : Shopping Centre Massen, Wemperhardt, LU
17TH APRIL : De Schelf Spirits, Hamme, BE
18THAPRIL : Huis Aerts, Bree, BE
19THAPRIL: Drink Factory, Mons, BE
20THAPRIL: TasTToe, Boortmeerbeek, BE
Netherlands
21ST APRIL : Van der Boog, The Hague
Vonk Zaandam, Amsterdam
22ND APRIL : Woudenberg Whisky Show, Utrecht/Arnhem
23RD APRIL : Berendsen Dranken, Enschede
Germany
26TH APRIL : Whisky For Life, Frankfurt
Whisky Spirits, Frankfurt
27TH APRIL : Hilgering, Dortmund
28TH APRIL : Men's Needs, Hamburg
Weinquelle Lühmann, Hamburg
29TH APRIL : KaDeWe, Berlin
Whisky & Cigars, Berlin
1ST MAY : Tara Spirits, Munich
Austria
2ND MAY : Potstill, Vienna
3RD MAY : Dr. Bottle, Graz
Slovakia
4TH MAY : Svet Nápojov, Bratislava
The Izzi Pub, Bratislava
Hungary
5TH MAY : GoodSpirits Bar, Budapest
Croatia
6TH MAY : Fine Stvari, Zagreb
Esplanade Hotel, Zagreb
Slovenia
9TH MAY : Lord Byron Pub, Koper
Italy
10TH MAY : Ferrowine, Castelfranco
Boss Hogg Whisky County, Treviso
11TH MAY : Whisky Antique, Formigine
Atlas Whisky Bar, Bologna
12TH MAY : Baobab Café, Milano
Julep Cocktail Bar, Milano
13TH MAY : Whisky Club Italia, La Limonaia di Merone
XXL Café Chivasso, Torino
Switzerland
16TH MAY : Globus, Zürich
The Whisky Store, Rapperswil-Jona
17TH MAY : Häberli, Dagmersellen
Friends of Isles & Islay, Lucerne
France
18TH MAY : La Bouchonnerie, Annecy
La Java des Flacons, Annecy
19TH MAY : Bon Plan du Vin, Beaune
Whiskies & Spirit, Beaune
20TH MAY : Au Secret du Vins, Lille
UK
24TH MAY : Milroys of Soho, London
The Whisky Exchange, London (Covent Garden)
25TH MAY : Aston's of Manchester, Manchester
House of Malt, Carlisle
26TH MAY : RMW, Edinburgh
Uesquebae, Edinburgh
27TH MAY : Good Spirits, Glasgow
Robbie's Drams, Ayr
28TH MAY : Green Welly Stop, Tyndrum
The George Hotel, Inverary
For more information about events and how to purchase tickets please contact the venues directly
For general enquiries please email info@kilchomandistillery.com
READ NEXT
Featured
The Kilchoman 16 Years Old
This is a proud moment for all at the distillery as we release our oldest global bottling to date. A combination of 21 casks have been maturing for over 16 years, predominantly ex-bourbon barrels with a hint of ex-oloroso sherry, creating a perfectly balanced single malt. With a marriage of…
November 6, 2023
READ FULL POST