DISTILLERY NEWS
European Tour – Austria and Italy 22nd – 27th October
November 7, 2018

We finished a great week in Germany before Olivia flew back home for a rest and Peter hopped in the Land Rover to start the long drive from Dresden to Vienna. The drive took him through the Czech Republic and unfortunately only Peter made it out the other side and into Austria, the Land Rover and trailer did not! There was a bit of an accident and the car and trailer still remain in a garage in Brno, Czech Republic, but we're happy to report everyone was ok and only the Land Rover was damaged.

We made a quick swap in Brno and the Kilchoman Land Rover and Trailer became the Kilchoman hired transit van…. Peter is covering his face with embarrassment rather than any injury!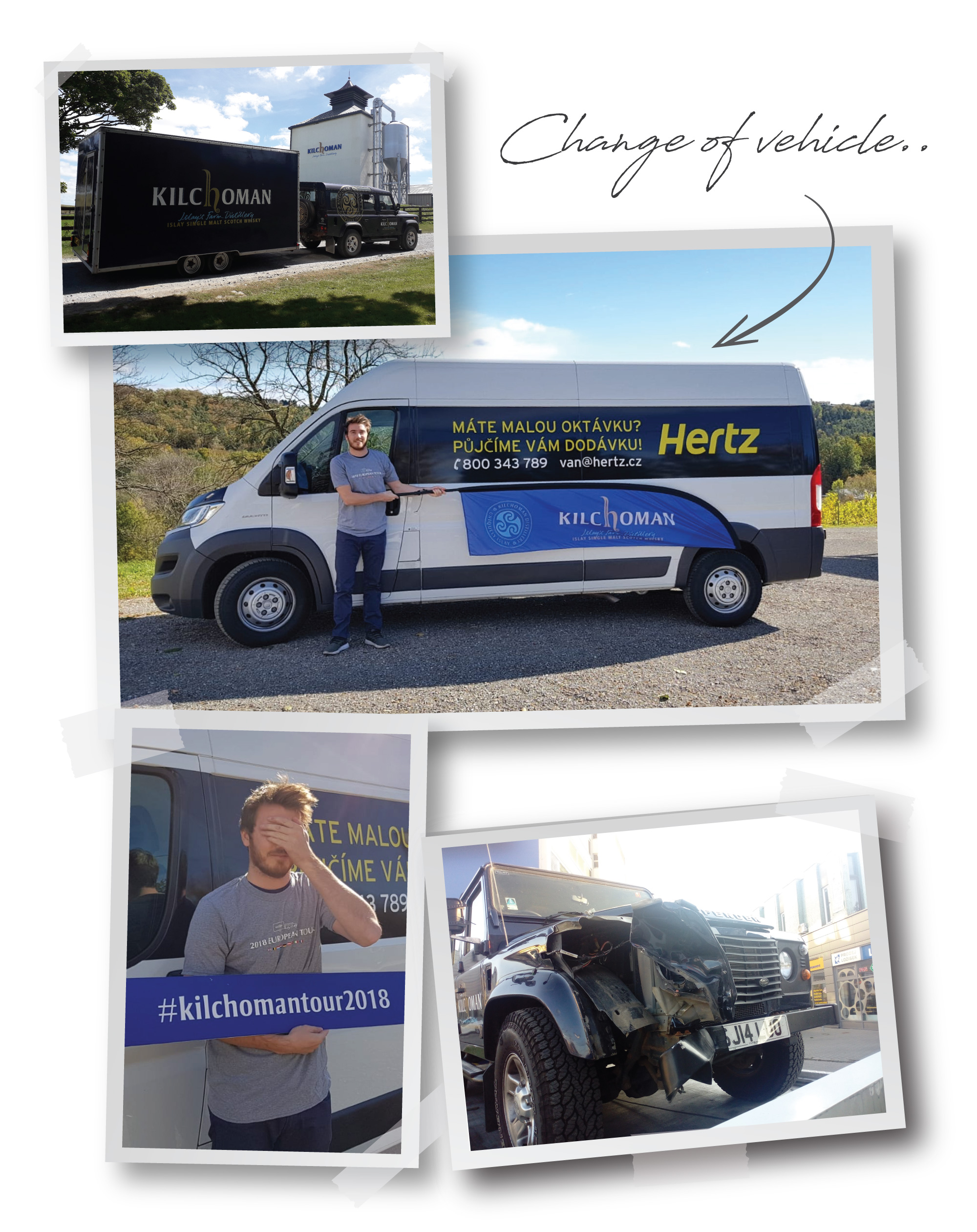 Peter packed up the van with all the whisky, flags, t-shirts, casks and a whole lot more before heading down to meet Russell in Vienna. He was busy serving up the Machir Bay Tour Release to the fine folk at the Falstaff Bar and Spirits Festival and later that night had an event with Pot Still and Reingruber. Dr Bottle in Graz was the second and final stop in Austria where before heading over the mountains to Italy.
Peter and Russell (and the transit van) made it to Blend Bar in Castelfranco for their first event in Italy and it was great to be at one of our Kilchoman Comraich bars for the evening. There was a whisky club tasting in one room and flights of Kilchoman coming from the bar, along with an array of expertly made cocktails from the team at Blend. Next it was off to Harp Pub in Milan and Vini e Piu in Cantu where over 100 people turned out in torrential rain to enjoy some drams at the last stop in Italy.
James and Nicole were up next for the drive up and over the Alps.
READ NEXT
BLOG POST
100% Islay 13th Edition
The 100% Islay 13th Edition was distilled from barley grown on the farm at Kilchoman in 2012, 2013 and 2014, it was then matured for a minimum of 8 years before 44 bourbon barrels were selected for this year's release of bottles. "The 13th Edition is the first release since…
September 11, 2023
READ FULL POST