Casks – First Fill v Refill
September 8, 2022

A common talking point in the Scotch Single Malt Industry is the age of the cask being used for maturation alongside how many uses that particular cask has had over the span of its life. To become Single Malt whisky, new make spirit must be filled into and matured in oak casks. The oak chosen for maturation has a significant influence on the eventually bottled whisky. Often first-fill casks are associated with delivering more fresh and flavourful profiles when being used to mature spirit. Whereas refill casks – a cask that has already been used to mature whisky and subsequently refilled for a second time – have connotations of delivering less impact. This isn't always the case, especially when maturation is individual to the distillery and the style of spirit created.
So, what does it mean at Kilchoman when we say our whisky has been matured in a 'first fill' cask? Whether we mature Kilchoman new-make spirit in Bourbon, Sherry, Cognac, Wine or Mezcal casks, the first time we do so, it will be classified as 'first fill'.  Think of it being a first fill at the distillery. First fill casks can be considered to be the most active casks that we work with at Kilchoman. These casks have more of the seasoning from the previous spirit within the oak available to the newly filled Kilchoman spirit. For example, for our Bourbon casks we source high-quality oak direct from Buffalo Trace Distillery in Kentucky. We are assured that the wood is active and therefore interaction between the spirit and the oak is immediate.  It's a careful balance – understanding how long to mature in first fill casks – which is managed by Anthony and Robin at the distillery. Too long and the spirit can become over-dominated by the oak. This is when cask management and understanding when to mature in first or refill casks is key.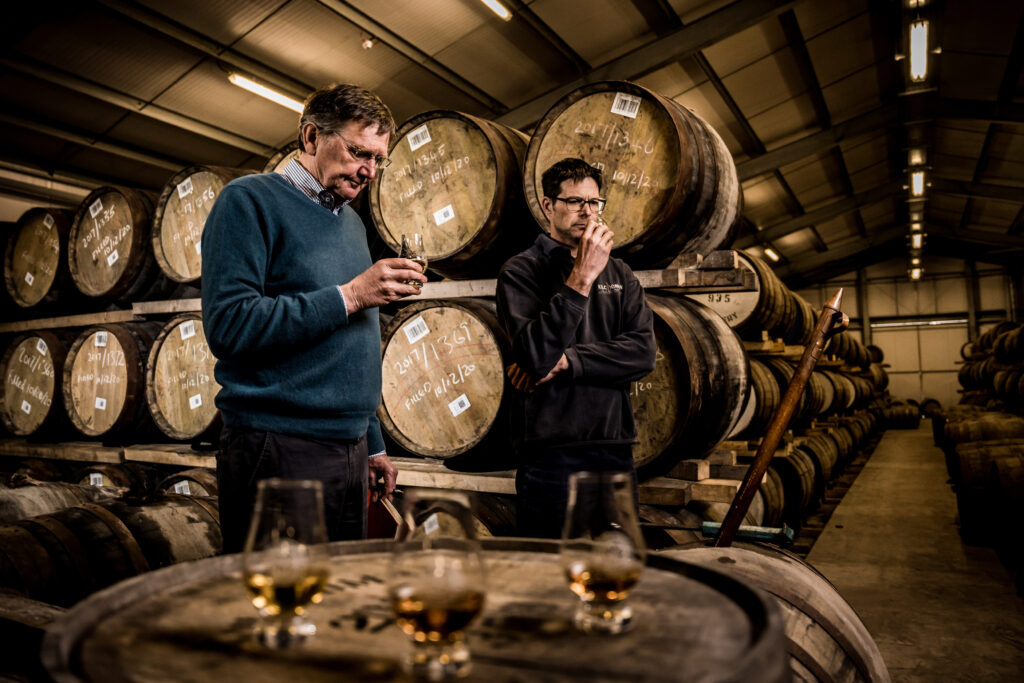 When we've used the cask more than once, these casks now become refill casks. These casks are less active than first fill casks due to an initial draw of flavour and colour from the first filling being taken from the oak. As high-quality oak was purchased for the initial maturation, at Kilchoman we can be assured that there are ample amounts of maturation time available within refill casks.
A benefit of using refill casks is that more influence from the previous Kilchoman spirit filled in the first fill can now impact future maturations. Secondly, as Kilchoman is designed to be released as a young, vibrant, Islay Single Malt, we must ensure that the cask doesn't take over; using refill casks allows for a more mellow maturation which enables the spirit to hold its distillery character well. If we use refill Bourbon casks as an example, they allow for the lighter, fruiter and sweeter notes created in the distillation period to remain, while showcasing the dry, earthy peat smoke Kilchoman is known for.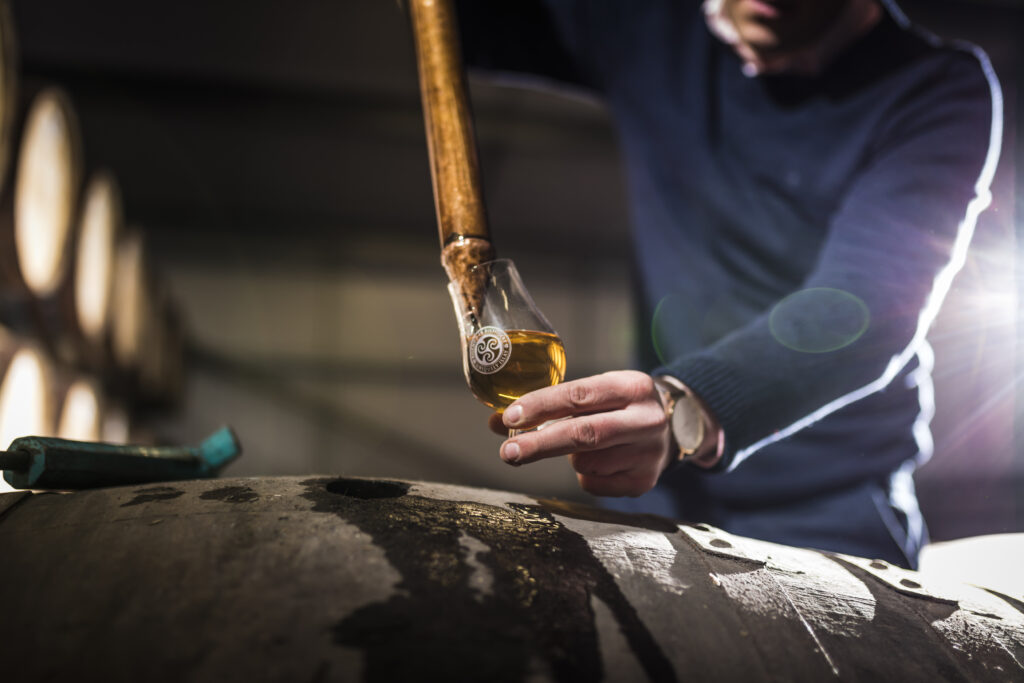 The lifespan of each individual cask can vary and it's up to the distillery to decide if the cask has the quality to continue as a second or third fill, or whether the cask wouldn't give enough influence on our spirit. Casks that we no longer see fit for purpose at Kilchoman will be sent to Speyside Cooperage where they will be broken down, scraped out and recharred, ready to be sold to the next distillery.
At present, challenges are being felt at an industry-wide level in the sourcing of casks. Demand for oak suitable for maturation has risen, especially considering the development of numerous new distilleries globally. At Kilchoman, this reinforces the need to take extra care when working with our casks at the distillery. Anthony constantly monitors the quality of the spirit as it's left to mature over the decided number of years.
The difference between first fill and refills isn't one that could see either as being superior, but each fill will deliver a different level of the intended flavour profile, each suited to individual maturations.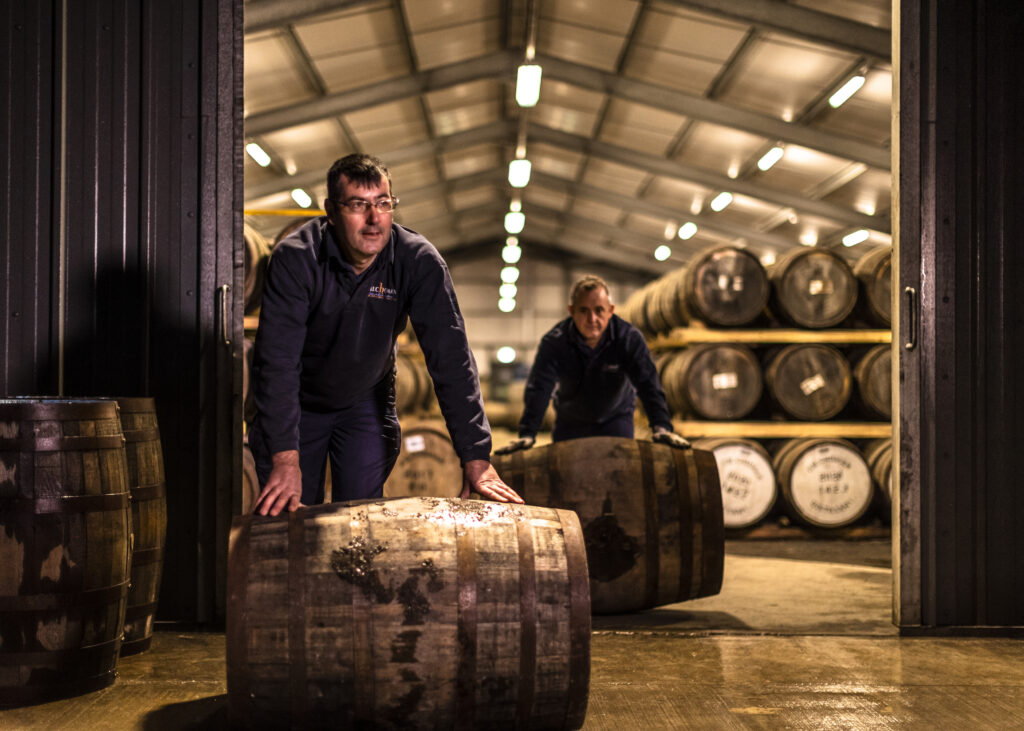 To keep up to date with what is going on at Kilchoman and to be amongst the first to know about new releases click here and join our Kilchoman Club
READ NEXT
Featured
The Kilchoman 16 Years Old
This is a proud moment for all at the distillery as we release our oldest global bottling to date. A combination of 21 casks have been maturing for over 16 years, predominantly ex-bourbon barrels with a hint of ex-oloroso sherry, creating a perfectly balanced single malt. With a marriage of…
November 6, 2023
READ FULL POST