NEW RELEASES
2010 Vintage Release
October 14, 2019

Here it is, our fourth and final limited edition release of 2019, the 2010 Vintage, 9 year old.

We've been launching single vintage releases for a number of years, they are some of my favourite Kilchoman expressions, mostly because they're classic Kilchoman but also because each marks the development in the age profile of our maturing casks.

The 2010 Vintage is a vatting of 45 casks, all filled in 2010. It consists of 42 fresh bourbon barrels and 3 oloroso sherry butts, bottled at 48% abv with no chill filtration or colouring (as with all Kilchoman bottlings). A total of 15,000 bottles will be available worldwide from October 16th.

Until the previous vintage release, 2009 Vintage, the range had been matured exclusively in bourbon barrels however this year's edition, as with the 2009 Vintage, is a vatting of both bourbon and sherry casks, this time roughly 85/15 bourbon/sherry casks. The balance of bourbon and sherry maturation is a tried and tested combination for us, it allows for both the vanilla and citrus flavours from the bourbon barrels and the rich, spicy influence of the oloroso sherry casks to balance and complement one another.

Our core range of Machir Bay and Sanaig single malts both contain varying influences of these casks with a range of different ages in the vattings, however the 2010 Vintage stands out as an age-statement whisky, a minimum of 9 years old.
"These proportions of bourbon and sherry cask maturation has always worked well for our spirit, it allows the unique distillery characteristics of maritime peat smoke and citrus sweetness to flourish whilst the addition of a few particularly good sherry casks add extra layers of cooked fruits, richness and mixed of spices" 
Anthony Wills, Kilchoman Founder & MD
The 2010 Vintage will retail for £73.50 in the UK (70cl, 48% abv), a limited number of bottles will be available via our website from 2pm on Wednesday October 16th however these will be restricted to one bottle per person. If you miss out on a bottle when they're released online then do not fear, bottles are currently on the way to whisky shops around the world.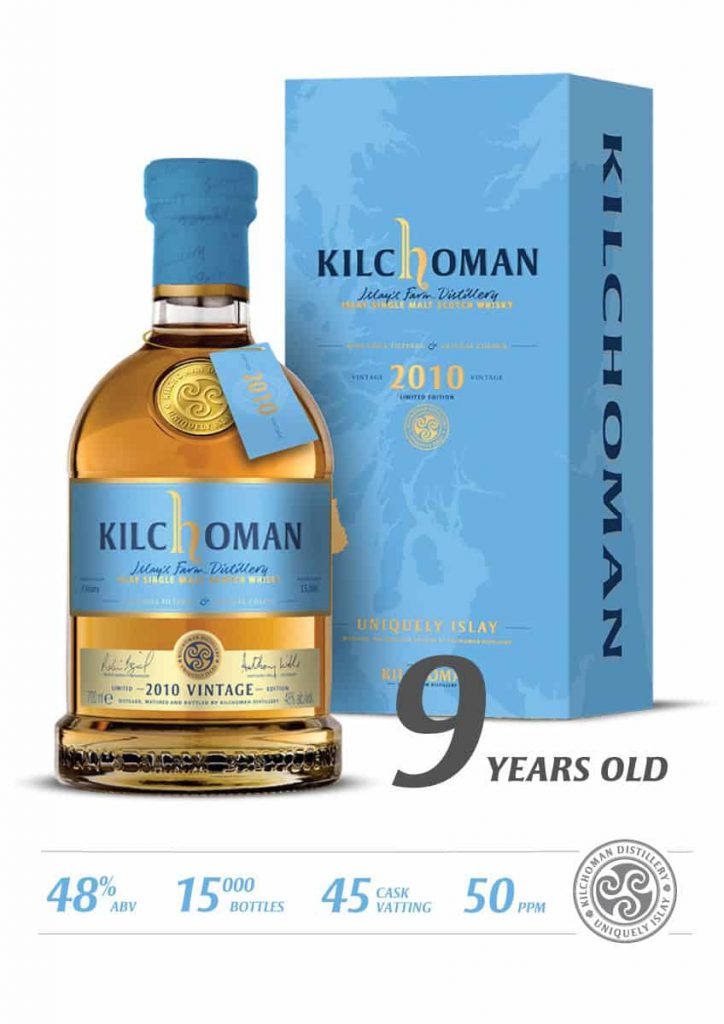 READ NEXT
DISTILLERY NEWS
The Kilchoman 16 Years Old
This is a proud moment for all at the distillery as we release our oldest global bottling to date. A combination of 21 casks have been maturing for over 16 years, predominantly ex-bourbon barrels with a hint of ex-oloroso sherry, creating a perfectly balanced single malt. With a marriage of…
November 6, 2023
READ FULL POST