NEW RELEASES
100% Islay 8th Edition
September 8, 2018
Islay's only Single Farm Single Malt
The latest instalment of our 100% Islay range is to launch on Monday the 10th of September. Released in limited runs annually, the 100% Islay range is our only expression distilled solely from barley grown and malted here at the distillery.
This, the 8th Edition, is a vatting of 23 bourbon barrels and 7 oloroso sherry butts filled between 2008 and 2012, bottled at 50% ABV. A total of 12,000 bottles have been released worldwide, hitting shelves from the 10th of September.
The 8th Edition can trace its origins to the fertile soil of the Kilchoman barley fields. It was here that we harvested Optic barley between 2007 and 2011. Once harvested the barley was hand malted, peated and distilled before being matured in a combination of bourbon and sherry casks. The combination of cask types allowing for an elegant balance of rich spices, citrus sweetness and earthy peat smoke.
Bottled on site, the 100% Islay 8th Edition is without colouring or chill-filtration, standing alone as Islay's only Single Farm Single Malt, 100% Islay – from barley to bottle.
Though the name might suggest a heavier peating level than our standard 50ppm offerings; Machir Bay, Sanaig and others, the 100% Islay range is in fact peated to a lower level of roughly 20ppm. Although this is not an exact measurement as the small batches and old-style techniques make it almost impossible to peat each batch to exactly the same level.
The key difference between this and previous batches of the 100% Islay is the addition of sherry cask maturation. The seven oloroso sherry casks included in the vatting give the whisky added depth and richness compared to the fresh fruits and vanilla of previous editions.
Anthony Wills Kilchoman Founder and MD, "The 100% Islay range was the reason we built Kilchoman, we wanted to take whisky-making back to the grass root traditions of the industry, where we had the ability to influence each stage of the process to maximise the character of our whisky. Part of that is barley; how it's grown, malted and peated, part of that is slow steady hand distillation and part of it is casks; filling casks that pair well with your spirit and selecting the right balance of casks when they reach maturity. Great whiskies are not a result of a single part of the process, they're the outcome of time and passion invested at every stage of the process"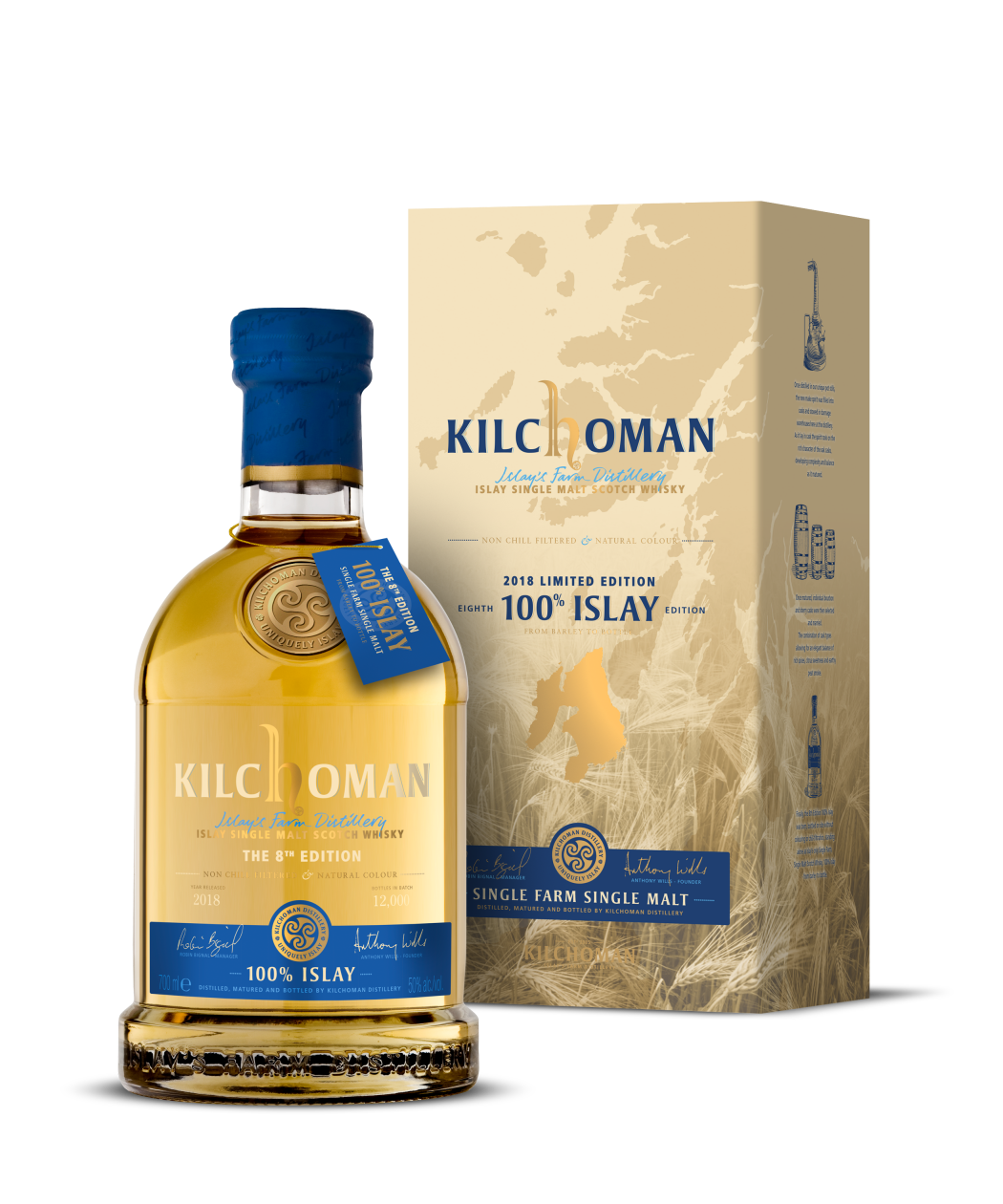 The 100% Islay 8th Edition is on its way to retailers and bars around Europe. It might take a little longer to reach countries further afield, but don't worry, it's on the way and will get there! We will also be releasing a small number of bottles on our website from Monday the 10th of September at 2pm GMT – £73.50. On Monday, click on 'Menu' then 'Whisky Shop' to get your bottle. Due to the number of bottles, this is limited to one bottle per person, sorry!
READ NEXT
BLOG POST
Award Winning Whiskies, again!
The 2023 awards season is well underway and we are extremely pleased to announce that our Machir Bay Single Malt has yet again been presented with a gold medal by The Spirits Business Scotch Whisky Masters (2023) together with our 100% Islay 12th Edition (released September 2022) which has also…
June 2, 2023
READ FULL POST