Visiting Kilchoman
Getting to Islay is easier than you might think; for those short on time, we recommend flying. 45-minute direct flights depart twice daily from Glasgow year-round.  For those with a bit more time on their hands we recommend taking the ferry from Kennacraig, it might take a little longer but the beautifully scenic drive and the idyllic ferry journey give you a full appreciative of Islay life.
Once you're on Islay do not miss the opportunity to experience Kilchoman, the only distillery on Islay where you can see, touch, smell and taste every part of the whisky-making process, from barley to bottling.  Head west from Bridgend and follow signposts to Kilchoman.  We're five miles off the main road, watch out for the sheep on the single track road!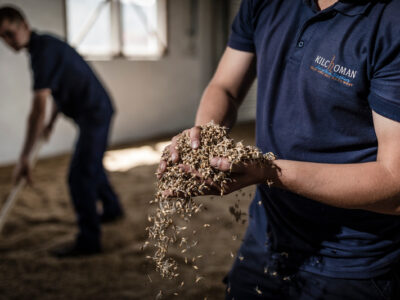 CLASSIC TOUR
10am and 3pm Tue - Sat
Adults: £10
Children: £5
1 Hour
Join us and gain an insight into the day-to-day running of our distillery starting on the malt floor with a dram of our 100% Islay.  You will have the opportunity to walk through the distillery production accompanied by one of our friendly guides, visit the warehouse and finish with a dram in our new Visitor Centre.  A tasting glass is included and drivers drams are available if required.
We have allocated spaces available for children 8+ years subject to a small admission fee and may also be booked online.
Valid ID must be provided on request for drams. Parents and Guardians MUST be responsible for their children at all times.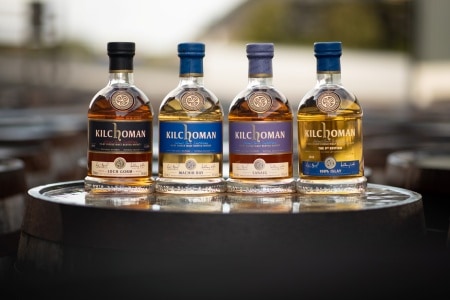 Group Bookings
Minimum of 8 People
We are happy to provide whisky tours of our Distillery for groups of 8 or more people. It is advised that you book these in advance as our scheduled tours are restricted in numbers. We also provide a tour and lunch package for groups, please get in touch for more information or to make a booking. 
Valid ID must be provided on request for drams. Parents and Guardians MUST be responsible for their children at all times.
VISITOR CENTRE
Nestled amongst the old farm stables is our spectacular new visitor centre.  Opened in early 2020, it boasts a beautiful combination of traditional buildings and wide open spaces.  It is the perfect place to immerse yourself in the art of distillation and enjoy a dram by the fire.  We also have a range of both informal tastings and comprehensive tasting experiences to enjoy without any booking required.
KILCHOMAN SHOP
The main attraction in the shop, of course, is our range of whiskies, all of which are available to taste at the bar.  This includes our Distillery Exclusive single casks, the envy of every whisky enthusiast, these single casks are only available to those visiting Kilchoman in person.  We also have a range Kilchoman branded goods and gifts, everything from t-shirts and bags to hip-flasks and pipettes.
CAFÉ
Whisky tours may be fun, but even on Islay, you can't be drinking whisky all day long!  So, come down to the café and enjoy some of the delicious home-made cakes, soups, paninis and of course our famous Cullen Skink. We serve a full range of Barista-style coffees and are always happy to try something a little different – how about a drop of Kilchoman in your Latté or caramel in your Espresso Macchiato? Our winter timetable is now in operation and lunch is available from 12.00 – 2.30pm – Booking is essential.