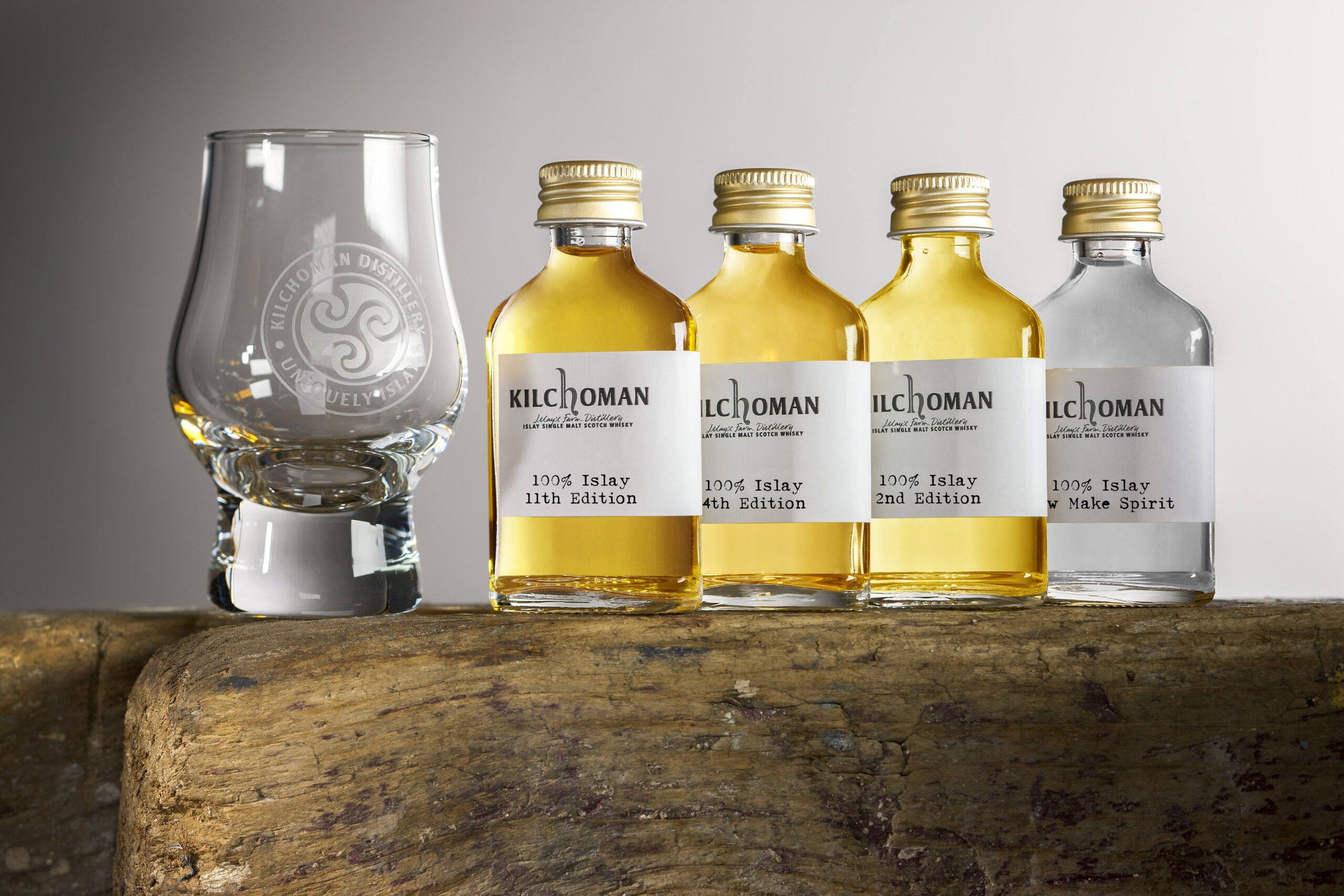 Through the ages: 100% Islay Tasting Pack
Join us for another 'Live Tasting' on 16th September at 7 pm.
Taste along with your Kilchoman Tasting Glass as we take you through 16 years of 100% Islay production. We will start with tasting our new make, before following the journey of maturation through the 2nd edition, the 4th edition, and our newest release, 100% Islay 11th edition. This is a unique opportunity to discover how we made each whisky and how the maturation has impacted the spirit character of our Barley to bottle.
100% Islay New Make Spirit – 63.6%abv (20ml) –Spirit flowing straight from our stills is reduced to 63.5%abv before being filled into cask for maturation. Our spirit is clean, packed full of citrus fruit and malty notes with delicate maritime smoke.
100% Islay 2nd Edition – 50%abv (20ml) – The second edition 100% Islay was released in September 2012. This vatting of 1st fill and refill bourbon casks, in which the whisky was matured for more than 3 years, is a great representation of a younger 100% Islay, a rare opportunity to try it.
100% Islay 4th Edition – 50%abv (20ml) – The fourth edition 100% Islay was released in 2014. The fourth edition differs by having a longer maturation, between 4 and 5 years, in a combination of fresh and refill bourbon barrels.
100% Islay 11th Edition – 50%abv (20ml) – The 11th edition will be released in September 2021. The older release of the pack, distilled from our 2007, 2009, 2010, and 2011 barley harvests before being matured in 26 bourbon barrels and 7 oloroso sherry butts for a minimum of 9 years.
Kilchoman Tasting Glass
Even if you don't manage to get a tasting pack, please still pour yourself a dram, join us and interact with the guys in the comments section during the tasting.  Feel free to also ask any and all questions you want!  We will be live on our Facebook page and Youtube Channel.