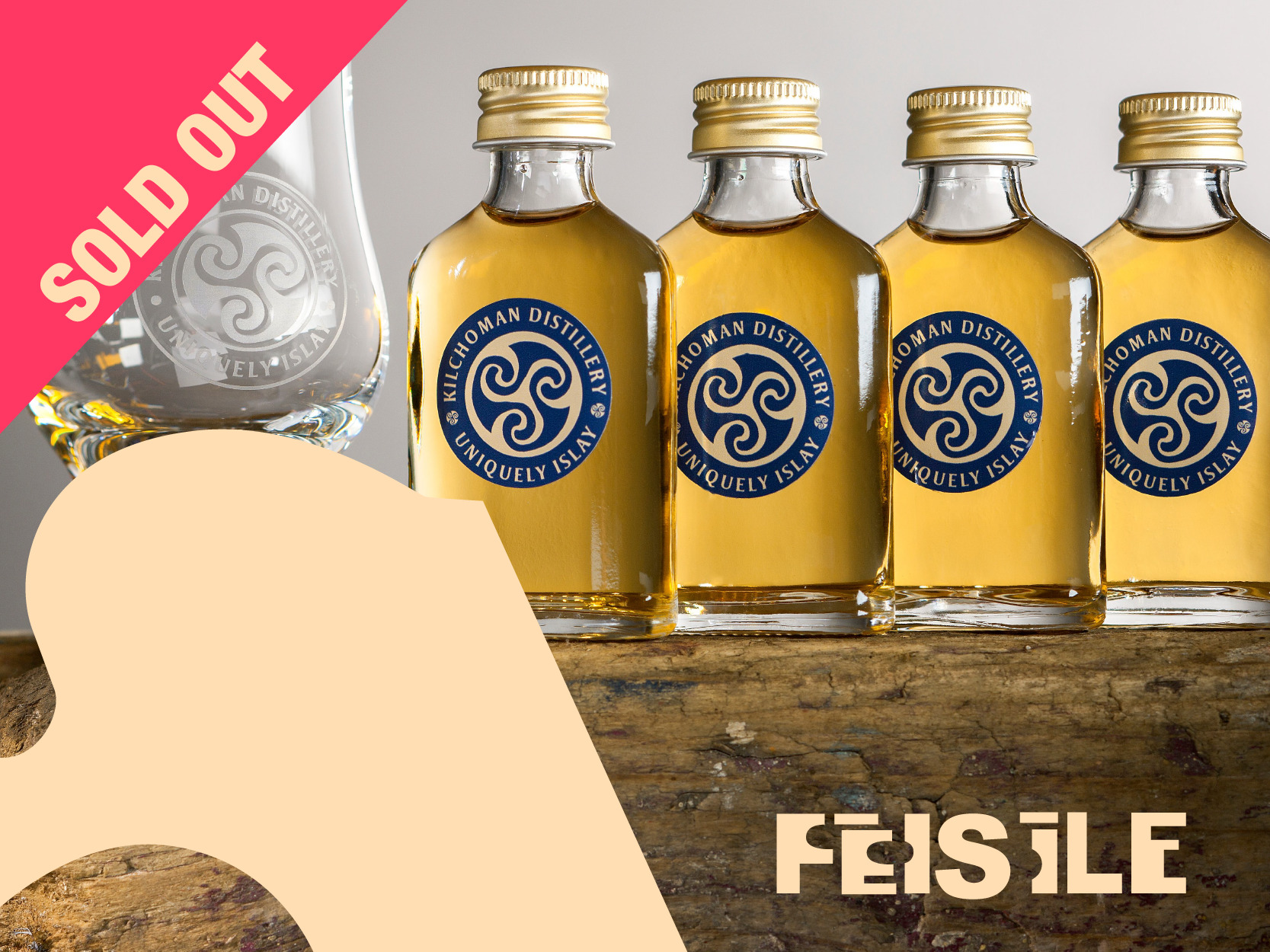 Fèis Ìle 2022 Live Tasting
SOLD OUT
Join us LIVE for a special Fèis Ìle 2022 Online Tasting which will be broadcast across our social media channels at 1.30pm Islay time on Thursday 2nd of June. Taste four new and upcoming releases in your Kilchoman Tasting Glass as Anthony and James Wills take you through the limited releases of Kilchoman! This tasting pack contains a preview of the "Casado limited edition" which is yet to be released, along with the Fèis Ìle 2022, which will only be available to buy on Fèis Day at the distillery.
Madeira Cask Matured @ 50%abv (2cl) – Released worldwide on the 2nd of March, The Madeira Cask Matured limited was distilled in May 2016 and matured for 5 years and 3 months in 46 fresh Madeira hogsheads, before being bottled at 50% abv in August 2021.
Loch Gorm 2022 @ 46% abv (2cl) – Released annually in limited editions, the Loch Gorm range is always matured entirely in oloroso sherry casks. Loch Gorm 2022 Edition was matured in oloroso sherry butts previously used by Bodega Jose y Miguel Martin for a minimum of eight years. The 22 casks selected are a combination of 20 fresh and 2 refill casks, bottled at 46% in April 2022.
Casado Limited Edition @ 59.2% abv (2cl) – Casado (Portuguese for marriage) was matured in fresh bourbon barrels for 6 years, before 38 casks were selected and married together for 2 years in two 6,000 litre Portuguese red wine vats. Release due in autumn 2022.
Fèis Ìle 2022 @ 52.1% abv (2cl) – The Fèis Ìle 2022 release is a vatting of five 16-year-old bourbon barrels filled in 2006. The barrels selected are from the first 50 casks ever filled at Kilchoman, some of our most treasured and rare casks, making the Fèis Ìle 2022 release our first ever 16-year-old bottling.
If you are on Islay, please note that the Fèis Ìle tasting pack is available to purchase in person at the distillery.